Poole Pirates rider Darcy Ward was 'close' to leaving
Last updated on .From the section Speedway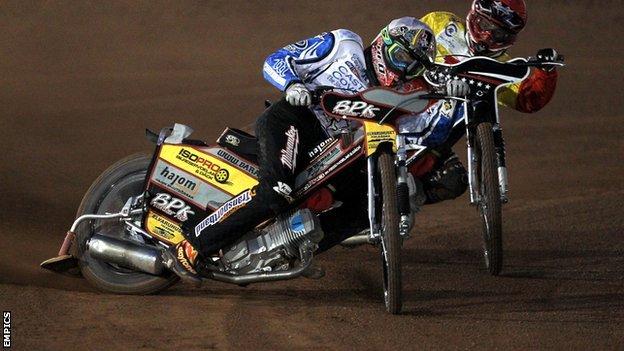 Poole Pirates rider Darcy Ward says he was close to leaving the Elite League outfit before the 2013 season.
The Pirates' year gets underway against Swindon in the Elite Shield first leg this evening and Ward has revealed he was close to not signing on for the upcoming campaign.
He told BBC Radio Solent: "I was pretty close to not coming back to be honest - we just couldn't meet terms.
"But we did in the end and I'm really happy to be here."
Ward added: "It wasn't the club, it was just the negotiations. Me and Matt [Ford, Pirates' promoter] couldn't meet terms.
"I didn't want to go anywhere else and I didn't think I was going to go anywhere else.
"I just wasn't going to race and focus on the Grand Prix but I'm on board now with Poole and happy about it."
Ward recorded a third-place finish in his first full grand prix race this week and the 20-year-old's busy schedule sees him line up for teams in four different countries this year.
But after a turbulent time on and off the track in 2012, Ward is hoping the Pirates, whose new line-up includes 2011 world under-21 champion Maciej Janowski, can achieve more success this season.
The Australian added: "2012 had its ups and downs, I rode really well but had some injuries and had some problems."
"There are obviously regrets but you can't take back what's happened.
"I think it's all made me who I am and I wouldn't change anything for the world.
"I'm really excited to ride with Maciej. We're good friends so for him to be in the team is nice.
"We're all so young - I didn't realise how young we all really are so that gives everyone a boost."