Middleditch says Poole Pirates are stronger this year
Last updated on .From the section Speedway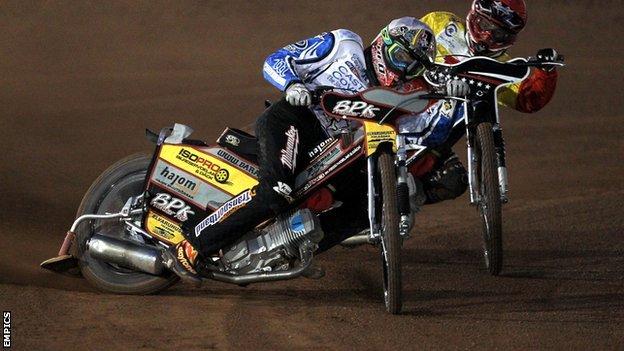 Neil Middleditch says Poole Pirates are better placed to win back the Elite League speedway title in 2013.
But with the new season starting next month, the Pirates boss is optimistic about securing a fourth league crown.
"We're a lot better placed now and that should give us a sting in the tail," Middleditch told BBC Radio Solent.
"I think we have a good mix with the three Aussies; Chris Holder, Darcy Ward and Rohan Tungate, three Poles, and Kyle Howarth - a young British guy which is nice to have in the team.
"Kyle's been away in Australia plying his trade through their summer so he's coming back race fit, and I'm hearing a lot of good things about Rohan from Darcy and Chris."
Middleditch believes a stronger middle order this year behind superstars Ward and Holder will contribute to a successful season for the Pirates and add to the triumphs of 2003, 2004 and 2011.
However, Middleditch, who will also lead the British Lions side at the Speedway World Cup in July, is wary of being labelled as the favourites for this coming year.
"It's flattering I suppose but there are some very good teams out there this year," he said.
"We're going to need to get a few weeks into the season once everybody has found their feet, then we will see who the real title contenders will be."
Poole and Swindon go head-to-head once again next week as the season begins with the first leg of the Elite League Shield at Abbey Stadium.
The Pirates, who will not defend their Knockout Cup title after the competition was 'rested' for 2013 by the British Speedway Association, will begin their 2013 Elite League campaign by hosting King's Lynn on 3 April.