Eastbourne Eagles co-promoter Mike Bellerby eyes play-offs
Last updated on .From the section Speedway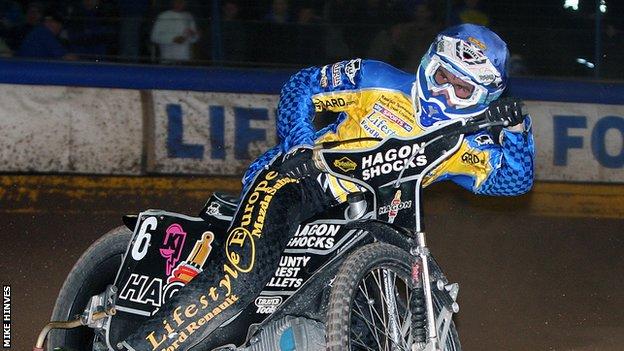 Eastbourne Eagles co-promoter Mike Bellerby has set his sights on the Elite League play-offs this season.
The Eagles missed out on a top-four finish by two points last year.
"I am very happy with the way it is all shaping up. We've got a team that is very capable of reaching the play-offs in 2013.
"The riders we've got are all capable of scoring double figures around Eastbourne and know the tracks we will be going to," Bellerby told BBC Sussex.
"Hopefully, we can go one better than 2011 and win the championship."
Bjarne Pedersen has returned to Arlington Stadium as the Eagles' new number one following the departure of Joonas Kylmakorpi.
And this week, the club confirmed that Lukas Dryml and Denis Gizatullin will return to Sussex as reserves for the 2013 season.
"This will give us the strongest reserve pairing in the league and I'm sure both Lukas and Denis will do well," said Bellerby, who is confident the final two berths in his line-up will be filled soon.
"I am not anticipating any problems with those [last] two."
The Eagles will have a programme of 14 home Elite League matches this year as the Knockout Cup will not be contested this season and Bellerby is hoping to increase attendances at Arlington.
"We want to build on last year," he added.
"It is still a difficult financial climate but our crowds held up very well in 2012.
"We have got an exciting team for 2013 and hopefully we can put another couple of hundred people on the gate.
"We're trying to attract new people and new families to speedway this year and have new initiatives we are taking forwards.
"I think the fans will be pleased with the fixture list."