Speedway: Somerset and Swindon hit by Jason Doyle injury blow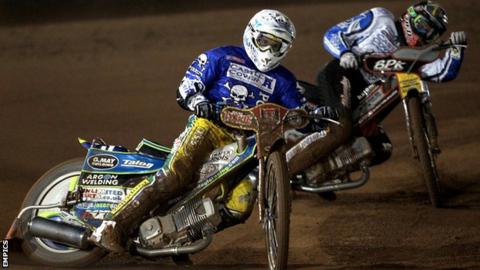 Jason Doyle has been ruled out for the season - meaning he will miss Grand Finals in both the Elite and Premier Leagues for Swindon and Somerset.
The Rebels captain was involved in a crash during Sunday's Premier League Riders' Championship.
Doyle, 27, was taken to hospital in Sheffield and scans revealed he had a broken a bone in his neck.
"This is a blow for the team, but our main thoughts are with Doyley," said Rebels promotor Debbie Hancock.
"The hospital say that the break is not serious and he doesn't appear to have suffered any other damage apart from some bruising in the rib area.
"The break should heal naturally over the next six to eight weeks without the need for any operation."
Doyle will be replaced by his Swindon doubling-up colleague Seb Alden for the first leg of the Elite League final between the Robins and Poole on Monday.
Somerset booked their place in the play-off final with a 54-39 victory over Leicester at the Oaktree Arena on Friday.