Speedway: Poole Pirates beat Lakeside to make Elite League final
Last updated on .From the section Speedway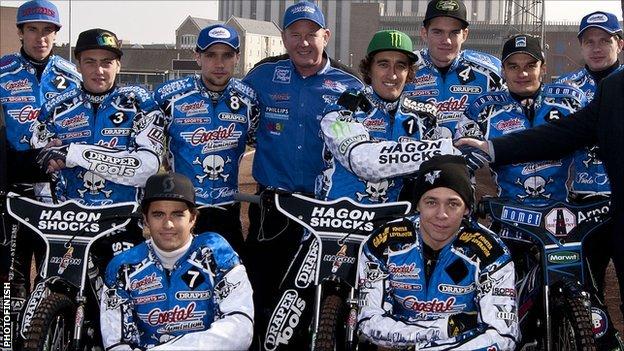 Poole Pirates have cruised into the Elite League play-off final for a third year in a row, after crushing Lakeside Hammers at Wimborne Road.
The Pirates won their play-off semi-final second leg 61-30, to give them an aggregate victory of 108-73.
And the Pirates look set to end the season with a final showdown against rivals Swindon, after they won the first leg of their semi-final 55-35 at Birmingham Brummies.
The second leg takes place on Thursday.
Poole team manager Neil Middleditch paid tribute to his side following their comprehensive victory on Monday.
"It turned out to be pretty clinical in the end," he told BBC Radio Solent.
"I thought Lakeside would put up more of a fight to be honest, but they just couldn't cope with us."
Poole's top four riders all scored maximums with unbeaten shows from Chris Holder, Darcy Ward, Krzysztof Kasprzak and Piotr Pawlicki.
And Middleditch in particular was impressed with Pawlicki, who he says has been one of the finds of the season.
"I can't remember the last time we have four unbeaten riders, it was a pretty awesome display," he said.
"Piotr has come in at the age of 17 and taken it by storm and impressed everyone at Poole Speedway. He's the find of the season."
Middleditch said he was excited by the prospect of facing Swindon in the final, should they come through the second leg against Birmingham.
"Swindon will be a completely different challenge and we need to step up our game," he said. "The two teams have led the way all season and it's going to be an epic battle."
But Holder warned his Poole team-mates they would have to improve in the final.
"We need to be a bit better than we were on Monday because the Lakeside team was not as strong as the one we will be facing in the final," said Holder.
"Unless something drastic happens, Swindon are going to be in the final with us. Over two legs, if we are going to have a chance of winning we need all the boys to be scoring points."