West Midlands speedway: Brummies bow out of play-offs
Last updated on .From the section Speedway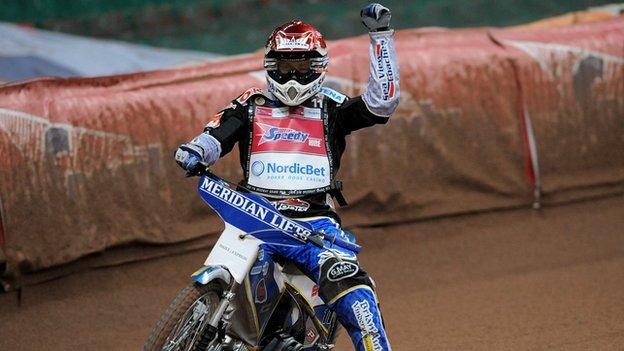 Birmingham Brummies lost 55-37 in their Elite League play-off semi-final second leg at Swindon to bow out with a 38-point aggregate defeat.
Monday night's 55-35 first-leg defeat at Perry Barr had left the Brummies with a mountain to climb.
But they once again made a poor start, falling 12 behind after four races.
Sebastian Ulamek was the only Brummies rider to reach double figures, top scoring with a 15-point maximum against his former club.
The Brummies did bag three consecutive race wins midway through the meeting to restore some pride.
But unsuccessful tactical rides for British trio Ben Barker, Danny King and Josh Auty, who suffered a hefty fall in his final ride, failed to make any major impact.
"The boys did their best," said Brummies skipper Danny King.
"We came here to restore some pride after Monday and I think everyone could see that we gave it our best shot."
The Brummies had qualified for the Elite League play-offs 12 days before, despite going down to a narrow final-heat 46-44 defeat against Swindon in their final meeting of the regular season.
But, in front of a bumper Perry Barr crowd, the hosts failed to be inspired by their first appearance in an Elite League play-off fixture.
And their chances of reaching the Grand Final were all but ended by a bruising home leg, in which they won only three of the 15 races.
Auty declared himself ready to race in the second leg at Swindon after undergoing an X-ray following a nasty crash on Monday night, but the Brummies were without Bjarne Pedersen, who suffered an ankle injury.
Pedersen will be assessed ahead of the Knockout Cup quarter-final fixtures against Belle Vue next week.
But Morris has already confirmed that the Danish Grand Prix star will not part of their plans next season after a difficult 2012.
WOLVERHAMPTON
Wolves had to overcome an injury to skipper Freddie Lindgren as they edged out Belle Vue 46-44 at Monmore in their final home Elite League meeting of the season.
In difficult conditions after rain, Lindgren took no further part in the meeting after crashing heavily in Heat 11.
British champion Scott Nicholls scored nine points on a guest appearance, while Pontus Aspgren underlined his potential with a solid 10+2 from reserve.
Rory Schlein top scored with 15 points for Belle Vue, for whom Tom Perry made use of his track knowledge from the Dudley Heathens as a guest rider.
He revelled in the conditions, reeling in his Heathens team-mate Morris, called up to replace the injured Jacob Thorsell, in Heat 4.
The pair rode side by side on the last lap, before Perry swept around the outside to claim second. And he then repeated the feat in Heat 8, snatching second from Ty Proctor on the line to give the Aces a 5-1.
Wolves legend Sam Ermolenko is to come out of retirement to ride in the club's Banks's Olympique on Tuesday 16 October.
The 1993 world champion, now 51, is regarded as the greatest rider ever to wear the famous gold and black colours.
He made 542 appearances 15 season with the club and is their all-time top scorer with 6434 points to his name.
COVENTRY
Coventry's Elite League fixture at Belle Vue on Wednesday night has been called off due to bad weather.
The Bees' next fixture is a specially arranged challenge match against Grand Finalists Poole next Wednesday night (10 October).
A return fixture against the Pirates is also in the offing, with a provisional date of Friday 19 October pencilled in.
The Bees are due to face either Belle Vue or Birmingham in the first leg of their Knockout Cup semi-final at Brandon on Friday 12 October.
DUDLEY v STOKE
Dudley Heathens' weather-hit National League play-off semi-final clash with Stoke Potters will now take place next week.
After a succession of postponements, the two clubs will now race over successive nights next week.
The first leg will, after all, be at Dudley's adopted Monmore Green home on Tuesday night (9 October, 19:30 BST), with the return at Loomer Road 24 hours later (10 October, 19:30 BST).
Heathens chairman Nigel Pearson said: "The Wednesday date has been agreed to ensure the availability of both sets of riders. We looked at this Thursday but our new signing Joe Haines is riding for Sheffield."
Dudley will next be in action this Sunday when they go to Suffolk for the first leg of their Knockout Cup final against Mildenhall (Sunday 7 October, 16:30 BST), with the return at Monmore on Tuesday 23 October.
Stoke's Ashley Birks will go into the contest on the back of his victory in the National League Riders' Championship at Hoddesdon on Saturday night.
"This was probably my last season at this level, and therefore also my last chance at this title," he said. "It's good to be moving on in my career."
Birks was also on form in Wednesday night's 48-42 victory at King's Lynn.
The Potters went behind early on, suffering three successive 4-2 heats to trail 12-6 before skipper Tony Atkin and reserve Lee Geary gained a 5-1 maximum in heat four.
The Potters took until the 10th heat to pull level before Birks and Geary combining for a 4-2 in the 11th to earn a 34-32 lead.
The points were sealed in heat 14 before Birks claimed his fourth victory of the night in the final heat.