West Midlands speedway: Wolves face tough test at leaders Poole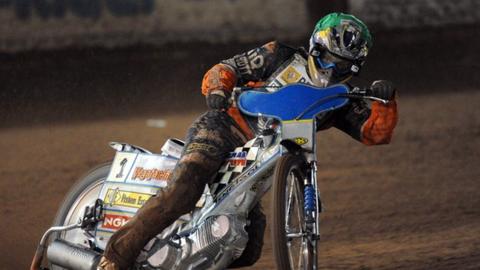 Wolves look to get back on track at Elite League leaders Poole on Wednesday night after losing Monday's West Midlands derby against Coventry.
Despite Freddie Lindgren's 12-point haul, Wolves went down 47-42 to a Bees side spearheaded by Kenni Larsen.
Tai Woffinden managed only seven points and, just a week away from the British Final on his home track, knows his form is not where he wants it to be.
"I need to improve. I feel confident of doing much better at Poole," he said.
"Seven was not a good score at all, but that's the way it is. I had a good meeting in Poland on Sunday but then didn't have the best of meetings on Monday.
"I had a bike problem in my one ride. We resolved that, but then I ended my night with a crash."
Wolves: Lindgren, Proctor, Miskowiak, Wells, Woffinden, Kus, Thorssell.
COVENTRY BEES
Coventry's win at Monmore on Monday night lifted them to within a point of fellow strugglers Wolves in the Elite League, with a game in hand.
It took a fine comeback to earn the Bees' first away win of the season.
Coventry trailed 16-8 after four races at Monmore Green, but Kenni Larsen's three race wins proved crucial, beating both of Wolves' big guns freddie Lindgren and Tai Woffinden.
"The boys dug in and did what they were asked, and I'm proud of them," said Bees manager Blayne Scroggins.
"We're delighted to win here. Maybe that will turn the corner for all of them."
BIRMINGHAM BRUMMIES
Birmingham will be out to maintain their pursuit fo a place in the Elite League play-offs at home to Belle Vue on Thursday night (19:30 BST).
They have former Belle Vue man Joe Screen lined up to make his first appearance of the season at reserve as Josh Auty is unavailable.
Brummies boss Phil Morris said: "He's been a top rider during his career and even now he is scoring well for Glasgow and enjoying his speedway as much as ever.
"I'm very confident he can do a good job for us against his former club. But we need all the boys to be performing well because Belle Vue are no pushovers. You only have to look at the score at Poole last Wednesday. Everyone says Poole will win the title easily but Belle Vue pushed them hard on their own track."
Brummies: Bedersen, Smolinski, King, Barker, Ulamek, Piszcz, Screen.
DUDLEY HEATHENS
Dudley stretched their lead at the top of the National League with a ninth straight win - Tuesday night's 61-29 away win against the Isle of Wight.
With skipper Adam Roynon winning all four of his races, the 100% Heathens topped the 60-point mark for the second time on the road this season.
The only setback was a mechanical failure for Ashley Morris in heat four, but he recovered to win his second outing, while Tom Perry top scored with 14 points.
Heathens manager Will Pottinger said: "I'm delighted with that performance from the lads. Every one of them were superb, and Adam was in a different class and achieved another track record despite having a bike problem.
"Stoke and Mildenhall in August are going to be tough tests, but we can't wait for those meetings now."
Isle of Wight: Kyle Hughes 10, Ben Hopwood 6, Paul Starke 4+1, Mark Baseby 4, Adam Ellis 2, Danny Warwick 2, Aaron Baseby 1.
Dudley Heathens: Tom Perry 14, Adam Roynon 12, Byron Bekker 10+4, James White Williams 9+1, Ashley Morris 7+1, Darryl Ritchings 5+3, Dan Greenwood 4+1.