Ipswich Witches must improve to make play-offs, says boss
Last updated on .From the section Speedway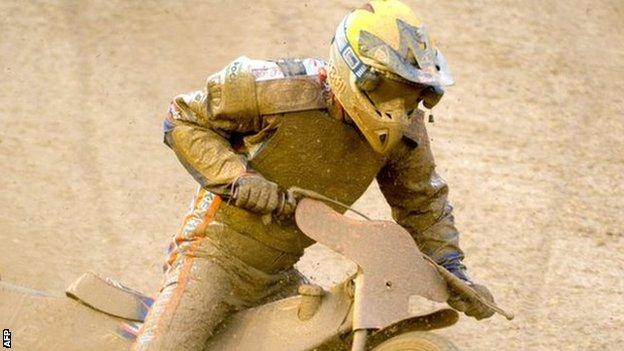 Ipswich Witches team manager Pete Simmons has urged his riders to raise their game to secure a place in the end-of-season play-offs.
The Witches are eighth in the Premier League after a 52-42 home defeat by Scunthorpe on Wednesday.
Only the top six make the play-offs and Simmons told BBC Radio Suffolk: "You can say you've got to peak at the end, not at the start of the season.
"Certainly, we haven't peaked at the start so we've got to peak at the end."
The Witches are in the semi-finals off both cup competitions and Simmons promised they would go into both "with all guns blazing".
"We've still got our aim to get in that top six and have a go in the mix at the end of the year," he continued.
Simmons was pleased to see Australian rider Taylor Poole, who will be 20 on Sunday, ride a dozen practice laps at the end of the meeting.
But he added Poole was still a long way short of full fitness following a heavy crash in a meeting against Rye House in March in which he suffered a badly broken arm and team-mate Morten Risager broke a vertebrae in his back.
"That's only his second spin since his unfortunate crash in the first meeting of the season and he's still feeling the pace.
"It's race sharpness and fitness that he's got to find now.
"He can still ride the bike, we can see that, but off the starts and obviously keeping control of it for four heats a night is what he's got to work on," Simmons added.