West Midlands speedway: Worst season I've known - Pearson
Last updated on .From the section Speedway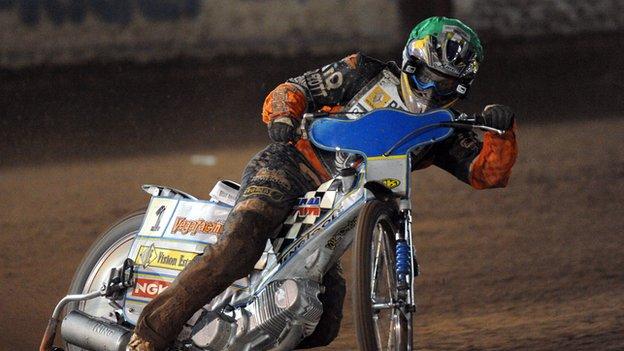 Dudley Heathens chairman Nigel Pearson claims that Britain's 2012 summer of speedway is 'the worst weather-hit season I've ever known'.
"What a summer we're having," Pearson told BBC WM. "We've got all sorts of fixtures to rearrange.
"It's the worst run of weather I've ever known for the sport of speedway."
The Heathens have only been able to take part in six National League fixtures this season due to the appalling weather.
And the National League leaders are still waiting to stage the second leg of their Knockout Cup semi-final against the Isle of Wight, over whom they hold a 28-point lead following a 60-32 win in the home leg at Monmore on 12 June.
They were also disappointed by the loss of Tuesday's lucrative annual Golden Hammer meeting at Monmore, which has now been pencilled in for 14 August.
"We took all sorts of weather conditions into account," said Pearson. "And we did everything we could to get this meeting on.
"But everybody who was here knew we made the right decision."
COVENTRY
Coventry Bees expect to have at least one new signing in place by the time they return to action at Brandon at home to title-chasing Swindon next Friday night (20 July, 19:30 BST).
The club's bosses have been "considering various options" following a recent run of four successive defeats, in two of which they gave away good leads to lose 46-44 to both King's Lynn and Birmingham.
The Bees hope to have any new signings in place for the Swindon meeting, which is followed by the local derby with Wolverhampton at Monmore three days later (23 July, 19:30 BST).
WOLVERHAMPTON WOLVES
Wolves return to action at Lakeside on Monday 16 July at 19:30 BST after yet more frustration with the weather.
And they are pinning their hopes on fit-again Ty Woffinden and Nicolai Klindt, assuming that he is passed fit to ride, to rescue their faltering season.
"Our season has been very inconsistent so far due to injuries," said Wolves rider Ty Proctor.
"It has obviously not been a great season so far but there are a lot of meetings left so let's just see what happens.
"We are pretty much at the half way mark so we have a few things in place and we will hopefully have a much better end to the season."
STOKE POTTERS
Stoke Potters have signed Adam Wrathall on loan from Scunthorpe for the rest of the season.
Subject to ratification from the British Speedway Promoters Association, Wrathall will make his debut in Saturday night's National League meeting with King's Lynn Young Stars.
Potters team boss Malcolm Vasey said: "Adam will slot into the number two race jacket and partner Simon Lambert.
"I now hope that we can now restore our season and get back on track."