Champion of Champions: Mark Allen beats Ronnie O'Sullivan and calls him a 'bully'
Last updated on .From the section Snooker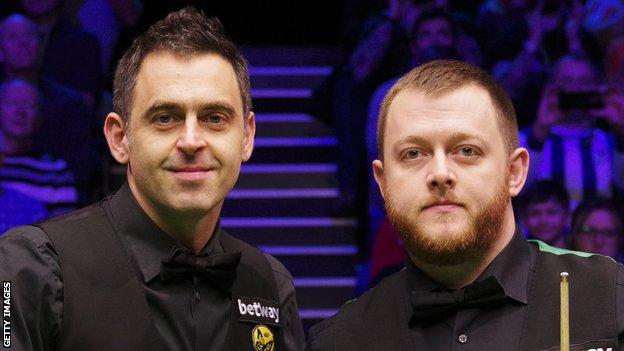 Mark Allen labelled Ronnie O'Sullivan a "bully" after the pair rowed during a victory that saw Allen reach the Champion of Champions semi-finals.
The players were caught up in a heated exchange after O'Sullivan said Allen, who won 6-3, was distracting him by being in his eyeline more than once.
"Ronnie tries to bully people out there but I was having none of it," the Northern Irishman said afterwards.
Allen faces world number one Judd Trump on Saturday for a place in the final.
O'Sullivan claimed Allen was "continuously" in his eyeline during the match and said he began to take his time over shots so his opponent would "get the message".
"Maybe I read too much into it," he told ITV4. "But it seems like something you do down the snooker club when you're an amateur and trying to put them off.
"I'm not going to let it go, so I pulled him up on it. No hard feelings, Mark played better and deserved his victory.
"Sometimes you just have to say something. I'm 45, I've been round the block so many times, I know every move in the book."
World champion O'Sullivan confronted Allen, who insisted he had done nothing wrong.
"It was uncomfortable for Ronnie. I don't know what he was on about," he added. "He said I was in his eyeline, moving in my seat. I'm not going to let it go if he's making up rubbish.
"It fired me up. I am not bothered. I know I am in the right, I'm sure he'll come to me someday and say he was in the wrong."
Three-time champion O'Sullivan earlier came back from 1-0 down to beat tournament debutant Michael Holt 4-1 in 50 minutes with a series of impressive breaks to set up the Allen match.
Allen had struggled to find his best form before seeing off Scotland's Scott Donaldson 4-3 in Milton Keynes.