World Snooker Championship 2020: Ronnie O'Sullivan wins sixth world title
By Shamoon Hafez
BBC Sport
Last updated on .From the section Snooker1480
Ronnie O'Sullivan claimed his sixth World Championship title with a dominant 18-8 victory over Kyren Wilson at Sheffield's Crucible Theatre.
O'Sullivan draws level with Ray Reardon and boyhood hero Steve Davis on world crowns, and surpasses Stephen Hendry on the all-time list of ranking event wins with a record 37 titles.
Although Wilson battled back to 10-7, O'Sullivan wrested total control with a run of eight frames on Sunday.
O'Sullivan, 44, is the oldest champion since Reardon, who was 45 in 1978.
The Englishman collects £500,000 in prize money, moving back up to second in the world behind last year's champion Judd Trump.
It was the biggest winning margin in a final since 2008, when O'Sullivan defeated Ali Carter by the same scoreline.
O'Sullivan told BBC Two: "I never really think about titles. When I was a kid I never really dreamed I would be here. To be here and have had all those victories is a dream that has become a reality.
"There was part of me that decided I didn't play enough to justify winning a tournament of this stature which is an endurance test.
"I am not really an endurance type player because I don't compete enough. I had half a chance but didn't expect to win it."
O'Sullivan rules once more
There has long been a debate about who the greatest snooker player of all time is - Davis dominated the 1980s, Hendry reigned in the 1990s but O'Sullivan now stands alone in terms of ranking events won.
His latest accomplishment ascends him to the top of the pile, having won his first back in 1993 at the UK Championship aged just 17, and he also collected a record-extending 20th Triple Crown title.
An enigmatic character, O'Sullivan often has to battle his own demons and did so in the final with his cue action, though he displayed both his supreme and slapdash manner during the 17 days of this tournament.
He hammered Thailand's Thepchaiya Un-Nooh 10-1 in his opening match in a record 108 minutes, defeated the dangerous Ding Junhui and responded from large deficits to oust three-time winners Mark Williams and Mark Selby.
But there have been issues too, stating snooker players were being treated like "lab rats" for allowing fans to attend the first day - with spectators returning for the final, while Selby described him as "disrespectful" for some of his rash shot selections during their semi-final.
Despite operating far from his best on the first day of the final, O'Sullivan showcased why he is regarded a sporting genius by still managing to open up a three-frame lead heading into Sunday, as the match turned into a procession.
Having criticised the standard of play lower down the rankings, it is testament to O'Sullivan's longevity that his latest world title comes in a third decade - 19 years after his maiden victory - leaving him one adrift of the legendary Hendry's haul.
Wilson wilts in summer heat
Kettering potter Wilson progressed into his maiden world final having received a bye from the first round as opponent Anthony Hamilton withdrew citing health concerns and beating defending champion Judd Trump in the quarter-finals.
A three-time ranking event winner, the 28-year-old was struck by nerves and failed to settle in the opening exchanges, failing 8-2 behind and he never truly managed to get within touching distance of O'Sullivan.
Having the opportunity of closing to 9-8 in his hands, he will look back on missing the last red on Saturday with major regret and missing chance after chance on Sunday proved fatal.
Wilson said: "I am not going to beat myself up too much, I am playing the greatest of all time. It was a dream come true knowing I was playing Ronnie in the final.
"You can't respect him too much or he'll walk right over me, which is what happened today.
"I am a fighter, I always will be. I really struggled in the first session and I just relaxed and let the shackles off."
With the event moved to July-August from its usual April-May slot because of the coronavirus pandemic, Wilson now has less than a year to wait in order to try to make amends.
The story of the match
Last year's final between Trump and John Higgins was a masterclass in break building, the pair producing 11 centuries between them, but this showpiece was sub-standard in comparison.
Clearly looking concerned by how he was striking the cue ball on the opening day, O'Sullivan ground out a century and four breaks of 50 or more to open up a sizeable six-frame advantage.
'The Warrior' Wilson was overawed early on but fought back by taking four in a row to trail 8-6 but he missed a crucial last red in the final frame of the day, allowing O'Sullivan to clear for a three-frame overnight buffer.
Wilson started the second day with a confidence-boosting 73 to trail 10-8 but poor potting and loose positional play thereafter gifted opportunities to his opponent.
O'Sullivan got into his rhythm by compiling seven frame-winning contributions without needing to do too much hard work, going one from victory heading into the final session.
And he completed his triumph on snooker's biggest stage in style, needing just 11 minutes in the final session to make a 96 break.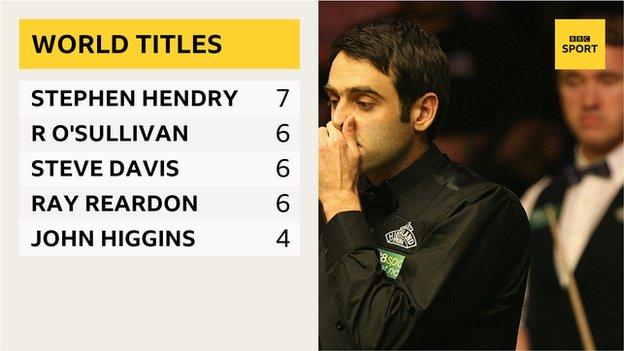 Analysis
Six-time world champion Steve Davis on BBC Two:
Ronnie is still there at the top and I'm sure he's capable of going even further. Certainly into his fifties, should he so wish.
He came in with a game plan to play a fast attacking game, it was a risky one but paid off in the end.
Wouldn't it be nice to see him win Sports Personality of the Year?
1991 world champion John Parrott on BBC Two:
It's a treat to come to the Crucible and watch him play live.
It's a scary amount of talent that he's got. To win it six times is one hell of an achievement.
He's the most watchable player that we have in our sport.

Sign up to My Sport to follow snooker news on the BBC app.