World Snooker Championship: Anthony Hamilton defends decision to withdraw over health concerns
Last updated on .From the section Snooker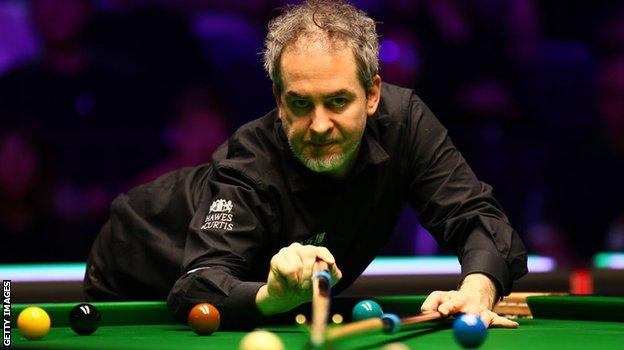 Anthony Hamilton has defended his decision to pull out of the World Championship in Sheffield over coronavirus health concerns.
The tournament, which begins on Friday, will be the first indoor sporting event with fans since lockdown, with around 300 people at each session.
Hamilton, 49, who suffers from severe asthma, has been criticised by World Snooker Tour chairman Barry Hearn.
"I am absolutely gutted not to be playing," said Hamilton.
"It is the best tournament and the Crucible is the home of snooker.
"It has been a really difficult decision for me. However, due to my health condition, after careful consideration I have decided not to play in the final stages."
Hamilton was set to face Kyren Wilson in the first round, after reaching the final stages of the tournament for the first time in 12 years with a 10-5 win over Scott Donaldson in the final qualifying round on Monday.
Hearn had earlier told Talksport, that he was upset by the timing of Hamilton's withdrawal.
"The question I pose is why did he not withdraw before the qualifying competition, because by getting through the qualifiers he has effectively stopped someone else from going and earning a living," Hearn said.
"He knew there were going to be fans present. He hasn't had asthma that started yesterday. He's had asthma and health issues for some time."
However, world number 48 Hamilton, who will still receive £20,000 plus world ranking points, added: "I want to apologise to my opponents at the qualifiers, Sam Craigie and Scott Donaldson, and assure them that I had every intention of playing at the Crucible.
"It was only after I finished the qualifying rounds that I was able to do a full personal risk assessment based on the latest information and discussions with WST."
Fellow professionals Alfie Burden and Robert Milkins defended Hamilton during an exchange on Twitter with Hearn.
Hamilton's late withdrawal is 'selfish'
But that support is far from universal, with reigning champion Judd Trump echoing Hearn's comments.
Trump said: "I find it very hard on the other people that he has taken the opportunity from. I think this was announced with enough time to know there was going to be a crowd at this tournament.
"There is a lot of money to be played for in this tournament. A lot of low-ranked players struggle to put food on the table and especially with things going on, you've got to try to earn a living.
"People need to think of the bigger picture sometimes and try not to be selfish and give others the opportunity to provide as well."
Hamilton had previously called the decision to allow spectators at the Crucible "ridiculous" and said that he would "definitely not" have played in the qualifiers had they been staged with crowds.
In June, Hamilton also withdrew from the Tour Championship - the first event to take place on the sport's return - on health grounds.