UK Championship: Ronnie O'Sullivan 'does not want to stop' after seventh title
By Shamoon Hafez
BBC Sport at the York Barbican
Last updated on .From the section Snooker82
Ronnie O'Sullivan said he "did not think" he would be winning trophies 25 years after his maiden ranking title and "does not want to stop now".
The 43-year-old Englishman won a record seventh UK Championship title in York with a 10-6 victory over Northern Ireland's Mark Allen.
"There have been so many tournaments where I thought that is as good as it gets, but this is one of my best achievements," five-time world champion O'Sullivan told BBC Sport.
O'Sullivan, who won his first UK Championship in 1993 at the age of 17, now has 19 'Triple Crown' event titles - the World Championship, UK Championship and Masters - surpassing Stephen Hendry's record.
"They are all great titles but to beat Hendry's 18 majors and making it 19 is crazy," O'Sullivan said.
"I never thought about chasing it because I just wanted to get my head down and play.
"To beat it is great. I want to put some distance and make it harder for the next guy to overtake me."
Hendry called O'Sullivan "the Benjamin Button of snooker" and said he is "getting better and better into his 40s".
The seven-time world champion said on BBC Two: "It's turning into domination of the sport.
"He is turning up when he feels like it. It is like a smash and grab when he takes the trophy.
"It is incredible snooker and shows he is getting that fear factor over a lot of the field.
"He is fitter than anyone else. He has got that enthusiasm to get better. He's always searching for new techniques and has got a new coach.
"As long as you still have that enthusiasm to practise you're always going to get better."
'It's scary - he could get better'
Since turning 40 in 2015, O'Sullivan has dominated the sport by winning seven ranking events, as well as two Masters and two further invitational tournaments.
Welshman Mark Williams won this year's World Championship at the age of 43, Scot John Higgins is the same age, while 35-year-old Mark Selby is the current world number one.
O'Sullivan said he and the other "usual suspects" can continue to win trophies.
"I watch a lot of snooker but Higgins is still the master," said O'Sullivan. "Williams is a multiple tournament winner and Selby is a great player.
"I don't think there is another player out there we know about that has the qualities that us four have.
"If we keep focused and keep playing - it has been proven and statistics don't lie - you will get to finals. For the big tournaments when it really matters, the same guys seem to be doing it all the time."
O'Sullivan paid tribute to new coach Steve Feeney, whom he began working with at the start of the season.
"Steve has helped to get my game back to when I was 12 or 13," said O'Sullivan.
"I am feeling confident. It will not always work out but you fancy it and that is 90% of the game."
Allen, 32, said: "I said to him at the end, 'Congratulations not just for the win but making history too.'
"To beat Davis' record at the UK and Hendry's Triple Crown events shows where Ronnie is at in the game. There is no question now he is the greatest ever.
"He is a perfectionist and him joining up with Feeney seems to have focused him. He looks unbelievably settled on and off the table and it a scary thought that he could get better. He is already the best."
Six-time world champion Steve Davis said on BBC Two: "We have had some great winners in this country - Phil Taylor was astonishing in darts - but he is our Tiger Woods of snooker."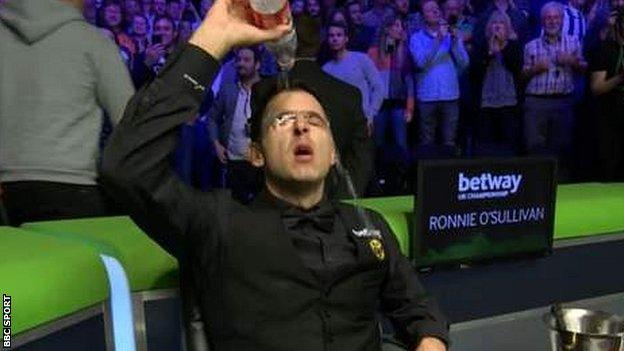 'I am the people's player - I can play until I'm 55'
An emotional O'Sullivan poured water over his head in celebration after his victory before climbing into the crowd with his trophy to celebrate with the fans.
'The Rocket', who enjoys boisterous support at every venue, said: "I am playing for the fans now and when it gets to the point where I cannot give them enough to smile about, that is probably be the time where it is time (to quit).
"I have had great fun and I owe the fans. I have a special rapport with them and I am the people's player.
"I understand that and they go through it with me. When I get wins they feel just how I feel.
"Bruce Forsyth was an entertainer. So was Tommy Cooper. If that is what I do on a snooker table then you owe it to them.
"Yes, I can play until I am 55, I am not doing to deny them that. I am 43 now so it is only another 12 years.
"I feel fit and healthy. It is not like I have to jump over hurdles or run a marathon, so it is about using my mind."