UK Championship: Judd Trump - nine ranking titles, but has he underachieved?
By Owen Phillips and Radio 5 live snooker reporter Jamie Broughton
BBC Sport
Last updated on .From the section Snooker16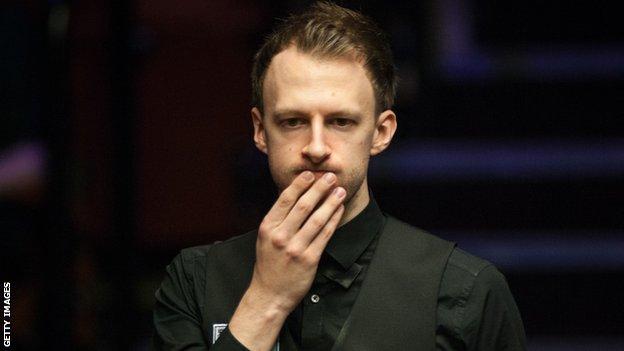 Betway UK Championship
Venue:
York Barbican
Dates:
27 November-9 December
Coverage:
Watch live across BBC Two, BBC iPlayer, BBC Red Button, Connected TV, the BBC Sport website and mobile app from 1 December.
Super talented and effortlessly entertaining, Judd Trump is one of snooker's main draws.
But there is an often-repeated statement that he should have won more.
That is despite him still only being 29 and already having nine ranking titles to his name.
To give his record some context, one more and the 2011 UK champion is level with Jimmy White in ninth place on the all-time list.
But has Trump's flamboyant, thrilling talent underachieved? He said the criticism he gets provokes mixed feelings.
"It's a back-handed compliment that I am doing well but people think I am not doing as well as I should be," the Bristolian told BBC Sport.
"But at my age, with the tournaments around nowadays, there's no reason why I cannot win at least one more ranking event per season if I keep working hard.
"That will put me on 20 and in the top five of all time by the end of my career."
It is the accusations of a lack of effort, throwing the towel in and caving in under pressure that sting.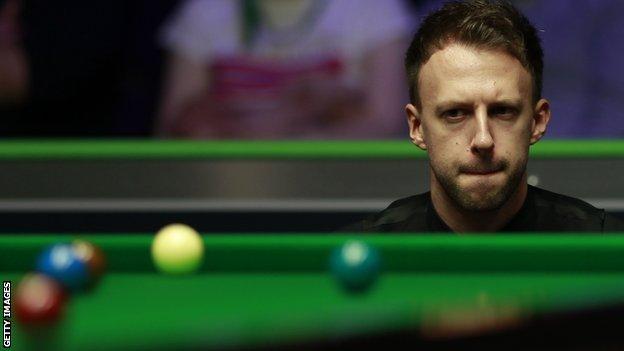 Trump's attacking style is practically unplayable when he is on his game, but the go-for-it approach is dismissed as reckless when the thinking time remains rapid and balls are bouncing off cushions rather than crashing into pockets.
When things go wrong, the more circumspect matchplay of John Higgins or Mark Selby is often seen as the way to go.
"If me or Ronnie O'Sullivan are losing then it is because we aren't trying and we don't want to be there," Trump said. "But we are trying our hearts out.
"I know how much I put in and it does hurt when people say you are not trying. When you put your all in and people say 'he has given up', that is hard to take.
"I think I am a lot more entertaining than most of the other players.
"People see the way I play and the balls I pot and then sometimes think 'how does he miss?'"
Trump did not miss much when winning his latest ranking title earlier this month. The 9-7 victory over Ronnie O'Sullivan in the Northern Ireland Open final was particularly sweet after a 13-month wait from his previous ranking title success.
"It was up there in the biggest two or three wins of my career because of the way I won it and the period of time I had to wait for it," Trump explained.
"And it's always good to play Ronnie in the final. There is a sense of occasion.
"I knew I was playing well and was due a big win; I just needed a bit of luck.
"I think I am very strong mentally, as tough as anyone in the game."
Evidence of that strength came when he was level at 4-4 despite dominating the first session, and then trailed 7-6. He took great pride in his comeback when he said "most people would probably have fallen away".
Looking to doubling up in York
Trump's quest for a second UK title, which this year will see the winner pocket £170,000, begins on Tuesday against David Lilley.
Defending champion O'Sullivan, who is looking to win a record seventh title, will face former world amateur champion Luke Simmonds in the first round.
World number one Mark Selby begins his tournament against James Cahill while world number two Mark Williams takes on Adam Duffy.
Five-time UK winner and seven-time world champion Stephen Hendry, the most successful player of all time with 36 ranking titles, is a big admirer of Trump.
But the Scot has said that the left-hander should have won the World Championship by now.
Trump, a losing finalist against John Higgins at the age of 21 in 2011, does not agree. Playing in an era that includes Higgins, Williams and O'Sullivan is a tough ask.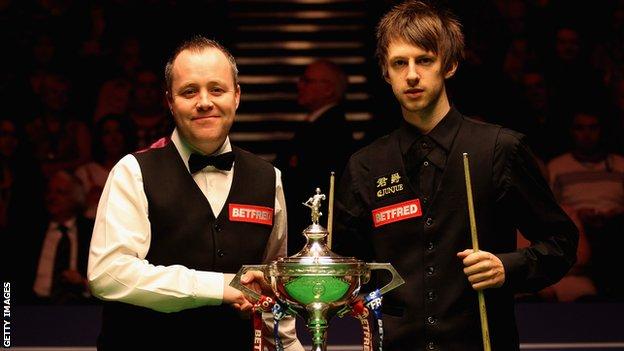 "I have a good record, apart from not winning it. I have had some close calls, been to the final, and the semis two times," he said.
"It's a fine line. I am being compared to two of the top three of all time in John and Ronnie.
"These are not average 40-year-old snooker players. Trying to knock them off their perch is going into greatness when you get up to anywhere near that level."
And with Selby, Ding Junhui, Williams and Neil Robertson all in the running, Trump says people "have to remember how difficult this game is".
He added: "It's not as if I am losing to number 200 in the world every year.
Trump is also convinced he has not yet peaked.
"My prime years are the next five or 10 years," he said. "I will be disappointed not to win it [the World Championship] by the time I am 40. I am not disappointed yet. I give it my best shot every year."
His success in Belfast has given him great reason for optimism prior to the first Triple Crown event of the season.
"It should help me a lot, but you don't want to be over-confident," he said. "I am due another big win on the BBC stage and this would be a good time to do it."
There are regular updates from the UK Championship on Radio 5 live and reports on the BBC website from the beginning of the tournament on Tuesday, 27 November. Live coverage is available across the BBC on BBC Two, BBC iPlayer, the Red Button, Connected TVs and on the BBC Sport website and app from 1 December.
Sign up to My Sport to follow snooker news and reports on the BBC app.