Ronnie O'Sullivan: Barry Hearn rejects five-time world champion's 'dictator' claim
Last updated on .From the section Snooker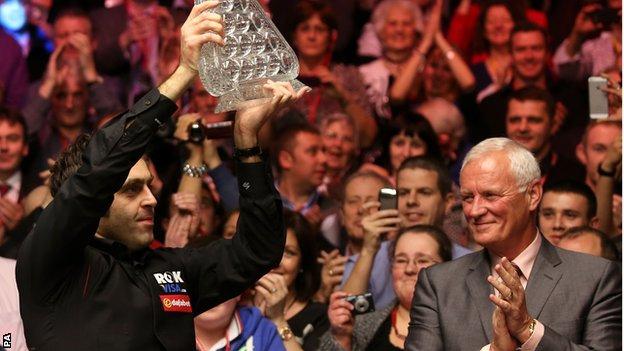 Ronnie O'Sullivan launched a verbal attack on World Snooker chairman Barry Hearn before winning in under 45 minutes at the Northern Ireland Open.
But Hearn defended himself by saying O'Sullivan has refused to meet him.
"Dictatorship it's called, disguised under democracy," the five-time world champion wrote on Twitter.
"Barry don't care about snooker, it's all about the cash. He's full of you know what, ain't got a clue about sport mate, he's a number cruncher."
O'Sullivan, fresh from his International Open success last weekend, hit three straight century breaks in a 4-0 first-round win over Soheil Vahedi.
The world number three opened with an 86 break to move in front at the Waterfront Hall in Belfast, then rattled off breaks of 111, 116 and 108 to win the first-round game in just 44 minutes 59 seconds.
O'Sullivan registered an average shot time of only 14 seconds.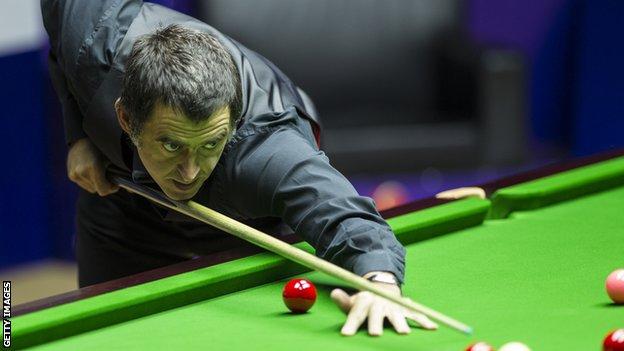 He has been a vocal critic of World Snooker recently, claiming in October that the K2 Leisure Centre in Crawley, venue for the English Open, smelled of urine, and calling on the governing body to spend more money on tournament hosts.
Hearn, who defended his record promoting boxing, darts and snooker, said O'Sullivan has refused to meet with him, or voice his concerns to World Snooker's players' commission, which meets several times a year.
The chairman wrote: "How can I listen when he refuses to meet? Easier to just moan!
"Ronnie has been offered the opportunity to meet with the players' forum to put across his views.
"He has refused to meet. I think that sums up Ronnie very well. I would love to hear specific not vague criticisms in order to consider and answer. Alas - he can't be bothered."
Questioned by one fan whether Twitter was the right medium for such a discussion, O'Sullivan said: "Waste of time talking, nothing gets done, they wanna keep things hush hush, hoping another 10 years go by, before anyway realises it's all messed up.
"The new system stinks, and he knows it, but refuses to back track. No one is interested in discussions, they wanna keep it as it is, and try to gag you, with intimidation of fines etc, so you can't express your views."
O'Sullivan added he had placed Hearn on 'mute' on Twitter, so he cannot see his replies and said there would be "no point" talking to Hearn.
"It would be like talking to a brick wall," he said.
'I don't play for money, but for enjoyment'
One of O'Sullivan's complaints is the depth of the field at tournaments, which begin with 128 players, and having to play more rounds against lower-ranked opponents, who struggle to accumulate high-scoring breaks.
One fan suggested a points system such as in tennis, arguing that Rafael Nadal, Novak Djokovic and Roger Federer would not be required to qualify for Wimbledon.
O'Sullivan, referencing his comments about the English Open, said: "Yeah, can you imagine them guys playing a qualifier for the US Open in a stinky leisure centre?"
He speculated China would have its own tour in future, suggesting he would join if it happened.
He added: "I don't play for money, I play for the enjoyment, and I'm afraid it's no fun playing in stinky venues in front of three men and a dog, playing players who, with respect, are never really going places.
"It's not always about money - I prefer playing in great venues, with good players. Flat 128 draws, playing in stinky venues is not my idea of good fun.
"Would Woods, Federer, Messi, Hamilton enjoy playing in a qualifiers in [a] stinky venue?"