Northern Ireland Open: Amateur Fry hoping to serve up Belfast upset
Last updated on .From the section Snooker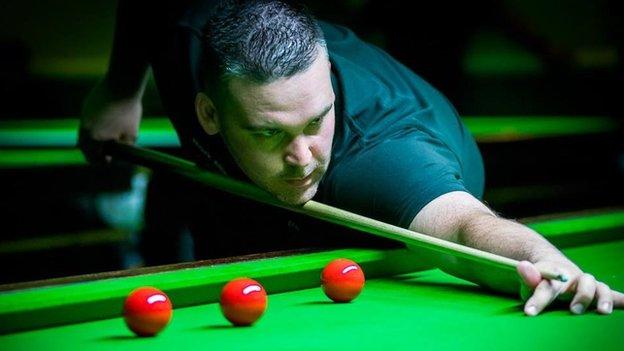 Antrim amateur Raymond Fry says it will be a "dream come true" when he competes in his first world ranking event at the Waterfront Hall in Belfast next week.
The 34-year-old goes up against world number 13 Luca Brecel in the first round of the Northern Ireland Open.
"I will be nervous but hopefully I'll be able to settle down and play my game," said Fry.
"There will be around 60 or 70 of my friends and family there to watch me so I just hope I can perform."
He added: "Brecel is a very talented player. He goes for his shots, and if he misses a few then I will get chances. It will be up to me to take them.
"I believe I can beat him, and just to win one match would be a massive achievement for me. It will be a dream come true to walk out in a big arena, my best moment without doubt."
Fry, who works part-time in an office role for a delivery company, is getting a few tips from fellow Antrim man Mark Allen.
Allen followed up his Masters success in January by winning the International Open in China on Sunday.
"I practice with Mark Allen in Antrim, which has really improved my game," Fry said.
"If you can't compete against Mark you'll just be picking balls out all day and it has made me realise what I have to do against the top players.
"It has also removed the fear factor because I know if I can win a few frames off Mark then I can do the same against anyone."