Q School: Barry Pinches faces Luke in father-and-son battle of the baize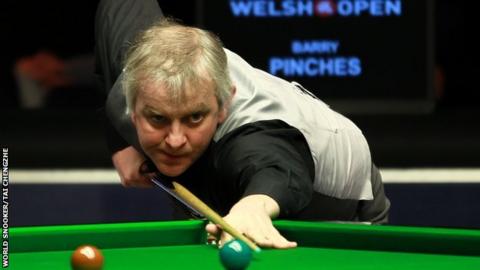 He's beaten the legendary Jimmy White and taken seven-time world champion Stephen Hendry to a final-frame decider at the Crucible.
But Barry Pinches has never faced a trickier match than Wednesday's contest against a 17-year-old rookie.
The 47-year-old takes on his son Luke in the second round of Q School, with the winner keeping alive their hopes of a place on snooker's professional tour.
"I have always tried to treat every match the same and give every opponent respect, but this will be very difficult," Pinches senior said.
"It will be the hardest game I have ever played."
Norwich's Barry dropped off the tour at the end of the 2015-16 season and would "love to have another crack at being a pro", while Luke is looking to qualify for the first time.
Pinches dreading family contest
Pinches senior, who was once ranked 18th in the world and played at the World Championship on three occasions, is the favourite to progress to the next round of the event at Burton.
"I still can't believe it and I'm not looking forward to it," he said.
"I played Luke in a pro-am in Brighton once and beat him 4-2. But this is obviously a completely different situation because Q School is such an important event.
"At the pro-am I tried to treat him like any other opponent, then afterwards I gave him some advice on shot selection.
"There is enough pressure on Q School anyway because everyone is playing for their career and the chance to play on the pro tour.
"Usually when I practice with Luke I give him a 20-point start. He is a good break builder and he's good enough to beat me if he plays well."
Another father and son duo, Peter and Oliver Lines, were on tour together for a while without playing each other.
Geoff and his son Neal Foulds played each other twice in 1986, with Neal winning both matches.