Ken Doherty, Peter Ebdon and Graeme Dott behind in qualifiers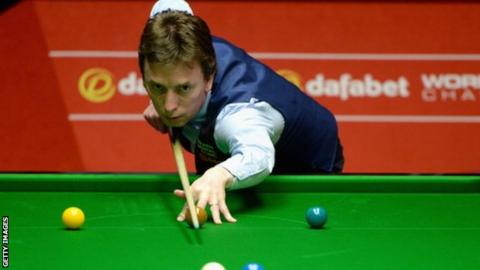 Former world champions Ken Doherty, Peter Ebdon and Graeme Dott are all in danger of missing out on World Championship qualification.
Mike Dunn leads Dott 5-4 while Doherty and Ebdon trail Welsh pair Matthew Stevens and Ryan Day respectively in the final qualifying round.
Despite winning the first and last frame of the session, Doherty lost all in between to Stevens and trails 7-2.
Ebdon is behind 6-3 to Day, who made six breaks over 50 on day one.
It was a good day for almost all the Welsh players at the English Institute of Sport in Sheffield with four of the five in winning positions after nine frames. Daniel Wells is the only exception as he trails Liam Highfield 5-4.
2012 quarter-finalist Jamie Jones, ranked 51 in the world, all-but booked his place in the World Championship, after taking a surprise 9-0 lead against Liang Wenbo, ranked 19 in the world.
The draw for the World Championships takes place on Thursday before the tournament starts on Saturday, 21 April.
Current scores (Best of 19):
Ryan Day 6-3 Peter Ebdon
Daniel Wells 4-5 Liam Highfield
Adam Duffy 1-8 Xiao Guodong
Stuart Carrington 5-4 Zhang Anda
Graeme Dott 4-5 Mike Dunn
Michael Holt 2-7 Robert Milkins
Rory McLeod 2-7 Lyu Haotian
Matthew Stevens 7-2 Ken Doherty
Liang Wenbo 0-9 Jamie Jones
Jack Lisowski 7-2 Alan McManus
Andrew Higginson 4-5 Ricky Walden
Mark Davis 2- 7 Joe Perry
Tian Pengfei 1- 8 Chris Wakelin
Alfie Burden 4-5 Thepchaiya Un-Nooh
Jimmy Robertson 4-5 Michael White
Hossein Vafaei 3-6 Stephen Maguire