Ryan Day: Welsh snooker player wins Gibraltar Open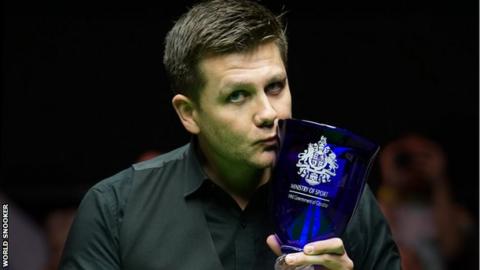 Ryan Day won his second ranking title this season after beating China's Cao Yupeng 4-0 in the final of the Gibraltar Open.
The victory follows his first ever ranking title at the Riga Masters in June 2017.
After 19 years as a professional, Day is determined for more tournament success.
"It is a tremendous feeling and hopefully this is going to give me even more confidence," said Day.
The Welshman is only now just outside the top 16 and wants to reach the elite in time for the World Championship in Sheffield next month to avoid qualifying for the Crucible.
Day is keen to impress at the Players Championship in Llandudno which starts on 19 March.
"The season I have had following up the victory I had in Riga that shows I have taken a lot of confidence from the win," Day told BBC Wales Sport.
"We are getting to the nitty-gritty of the season in terms of Crucible qualifying.
"I need to put a good show in Llandudno, so I don't have to go through the pressures of the World Championship qualifying system."