Welsh Open: Ronnie O'Sullivan knocked out by John Higgins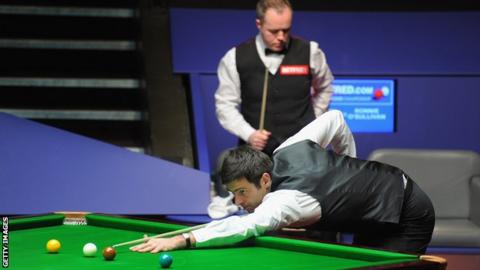 Four-time champion Ronnie O'Sullivan was knocked out of the Welsh Open with a 5-1 quarter-final defeat by John Higgins in Cardiff.
O'Sullivan took the first frame with a break of 64, before Higgins made breaks of 113, 57, 60 and 101.
The Scot, a four-time winner of the event himself, faces Gary Wilson, who beat Yu Delu 5-2, in the semi-finals.
Earlier on Friday, Barry Hawkins went through to set up a semi-final against Thailand's Noppon Saengkham.
Former World Championship runner-up Hawkins fell behind against China's Yan Bingtao, but made breaks of 141, 137 and 74 to win 5-1.
Saengkham will be appear in his first ranking semi-final after beating Ian Burns 5-3.
O'Sullivan, who took the World Grand Prix title in Preston in February, won his first three matches 4-0 at this event.
He stretched his run of winning consecutive frames against Higgins to 19, but failed to win another.
"I am delighted to win," Higgins told Eurosport. "It was a weird game. I just felt Ronnie was not there at all.
"He missed a couple of balls and ran out of position; he never does that. It must have been a concentration thing.
"Me winning that match means everyone in the tournament feels they have a chance of winning the title. If O'Sullivan was still in, people would say it is his to lose."