Michael Georgiou inspired by Shoot Out success
By Owen Phillips
BBC Sport
Last updated on .From the section Snooker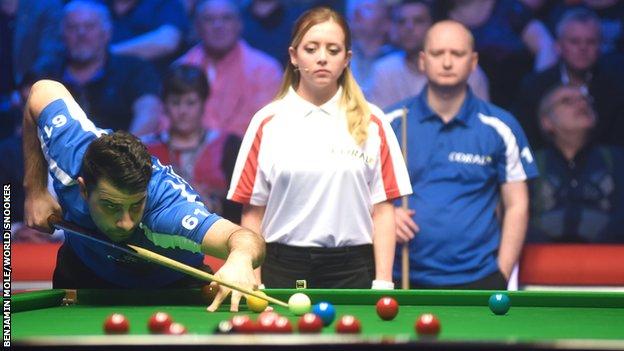 Instinct has served Michael Georgiou well.
Four years ago he was working in banking recruitment and watching on while many of the contemporaries from his junior career were making a more than healthy living from snooker.
It just seemed wrong.
Something told him that he should not be looking on from afar as players such as Judd Trump, Mark Allen, Ben Woollaston and Kyren Wilson were challenging for the biggest titles and heftiest pay cheques - all for doing something they love.
"It just made me question things," snooker's latest first-time ranking event winner told BBC Sport.
"I was part of all the human traffic travelling to work and back on the Tube, but I felt like I was missing out."
The 30-year-old Londoner had given up the sport he loved in 2011 because he could not make a living on the fringes when there were "only about eight or nine tournaments a season".
See ball, hit ball
Following his heart certainly paid rich reward as the world number 73 progressed through six rounds before beating Graeme Dott in a thrilling climax to snooker's still somewhat controversial Shoot Out event in Watford on Sunday.
The sport's glitzy one-frame knockout format features a shot-clock and raucous crowds, with the aim of appealing to a younger audience.
A rushed approach certainly simplifies things, with no time for anything other than a "see ball, hit ball" style of play.
It is fun, accessible and entertaining, but it is far from a universally popular event.
The sport's hardcore supporters are pretty disgusted by the ticking clock, the hollering and hooting from the crowds and seeing world champions aplenty having to run around the table as they desperately look to claw back a 15-point deficit with 45 seconds remaining.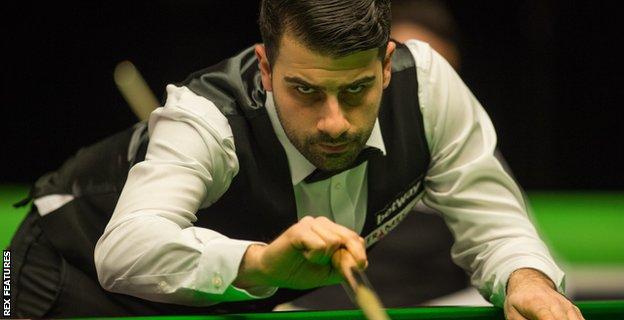 But the instinctive, thrill-a-minute nature of snooker's "T20" equivalent brings a refreshing new twist to the sport. And it certainly suits Georgiou.
"It's the overthinking that can cause problems, and it has done for me at times," the London-born Cypriot added.
"So much of snooker is on the mental side and when you spend time sat in your chair watching your opponent scoring heavily, or are worrying about an easy miss, it can really affect you.
"I feel my game is in a good place and although the Shoot Out is a totally different format, this win has given me lots of confidence and inspired me to take that into the next tournament."
That next tournament is the small matter of the World Grand Prix on 19-25 February, and it is fair to say that his appearance at the event at Preston's Guild Hall is completely unexpected.
Georgiou's Shoot Out victory saw him jump up the rankings from 73 to make the tournament's qualifying mark of the world's top 32 on the one-year ranking list.
The only way he could have done so was to win the Shoot Out, but it had not even occurred to him that it was a possibility.
"I had no idea I had qualified until I was told," Georgiou added. "I was amazed. But this means I can reset my sights.
"The short term aim is simple. I just want to win as many matches in tournaments as I can.
"I was thinking that I just wanted to stay on tour by getting inside the world's top 64. Now that should be fine so I'm looking at the top 32. Hopefully there is much more to come from me."
Looking much further afield still, he has a dream of following his roots back to Cyprus, where he still has lots of family. His grandparents moved to England in the 1950s, but he still visits regularly and is heavily involved in coaching when he does return.
"I love the coaching and reward that brings even more than playing," said Georgiou, who switched to represent Cyprus in January 2017 and recently moved clubs to play at Legends in Leytonstone so he could be nearer to home.
"It would be a dream to help another player from Cyprus get on tour," he added. "And I would dearly love to move to Cyprus and wake up with the sun shining on my face every day after retiring at the end of a long and successful career. I love promoting the sport out there."
Sign up to

My Sport

to follow snooker news and reports on the BBC app.