UK Championship 2017: Ronnie O'Sullivan 'would do reality TV for right price'
By Shamoon Hafez
BBC Sport at the York Barbican
Last updated on .From the section Snooker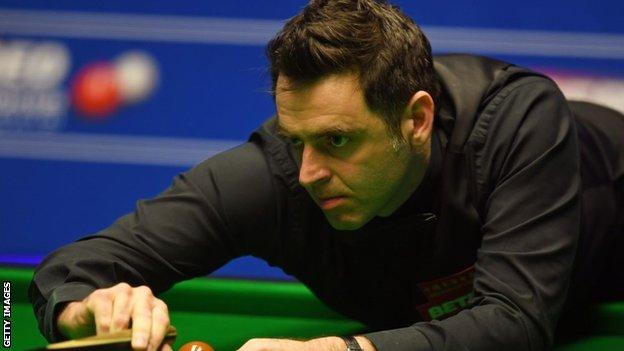 Five-time world and UK champion Ronnie O'Sullivan would appear on a reality TV show "if the price is right".
The 41-year-old Englishman reached the UK Championship third round with a 6-1 victory over Cypriot Michael Georgiou.
O'Sullivan said after the match he plays snooker "for the enjoyment" and does not want to get "too emotionally involved" in the sport.
Asked if he had any interest in appearing on a reality television show, he told BBC Sport: "Definitely."
O'Sullivan said: "I was watching the jungle [ITV show I'm a Celebrity] and thought: 'Wow, I need to have a go at that.'
"You get a chance to go to Australia, get the family out there for a nice little holiday. I am coming round to the idea of it if the price is right. Count me in."
Boxer Amir Khan is among the stars of this year's I'm a Celebrity, reportedly earning about £250,000 for the three-week show.
O'Sullivan said: "Amir Khan has been fantastic. I love him, and [former Chelsea footballer] Dennis Wise has been great too.
"I get approached all the time to do these shows. I have been too busy playing snooker. A lot of opportunities I have turned down in the past, I would do now.
"I get some freedom from it. In snooker you are told what you can and cannot do."