Ronnie O'Sullivan: 25 years at the top for a 'creative genius'
By Shamoon Hafez
BBC Sport
Last updated on .From the section Snooker162
2017 UK Championship
Date:
28 Nov - 10 Dec
Venue:
York Barbican
Coverage:
Watch live across BBC Two, BBC Red Button, Connected TV, the BBC Sport website and mobile app from 2 December. Full coverage
Full coverage
;
Schedule & scores
Ronnie O'Sullivan has been at the top of snooker for 25 years.
Since turning professional in 1992, 'the Rocket' has won five world titles, made more century breaks and more maximum 147s than any other player.
He started his bid for another title on Thursday with a 6-3 victory over Wales' Jackson Page in the first round of the UK Championship.
Although O'Sullivan has 30 ranking titles, seven-time world champion Stephen Hendry holds the record with 36.
Hendry retired in 2012, so can 41-year-old O'Sullivan catch him?
One of the greatest sportsmen?
O'Sullivan, who won the English Open and Shanghai Masters this year, has won more ranking titles than any current player. John Higgins is one behind on 29.
Combined with his 30 non-ranking titles, O'Sullivan has won £9.2m in prize money, more than any other snooker player in history.
"Ronnie O'Sullivan is one of the greatest sportsmen of all time, there is no doubting that," former world and UK champion Peter Ebdon told BBC Sport.
"You have to put him in the same bracket as top players in other sports such as Roger Federer, Tiger Woods, Michael Schumacher and Lionel Messi.
"You are looking at the gifted players, the ones with the most natural ability. They stand out and do things so easily. They are just on a different level."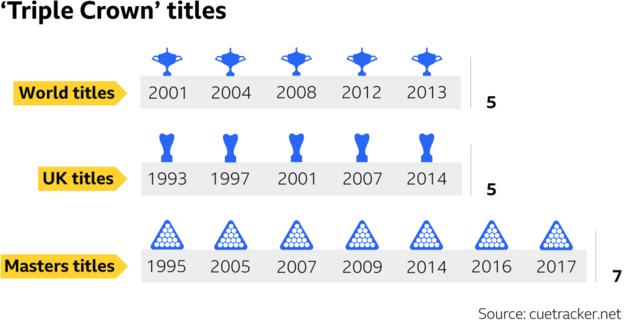 O'Sullivan has the chance to equal Hendry's record of 18 'triple crown' titles at this year's UK Championship in York, where he won the tournament three years ago.
He told BBC Sport last year: "Watching sport, I am a winner's man but I like to be entertained too. You have hit the jackpot if you have both. That is what makes me unique and separates me from the others.
"If I was to stake my case for reasons why I should be considered as one of the greats, I would like to think I entertain the fans like Jimmy White and Alex Higgins did, being the fans' favourite.
"I have also done what Stephen Hendry and Steve Davis did, which is dominate and claim world titles and be a winner."
Cast your vote...
If you are viewing this page on the BBC News app please click here to vote.
'Who is this young lad?'
O'Sullivan was part of snooker's 'class of 92', turning professional that year alongside four-time world champion Higgins and two-time winner Mark Williams.
He made a sensational start, winning 74 of 76 qualifying matches, including 38 in a row, a record which still stands.
Nick Jones II was O'Sullivan's first opponent - in the 1992 Dubai Classic - a match which ended in a 5-3 qualifying victory for O'Sullivan.
He failed to win a ranking title in his debut season, but claimed his maiden title at the UK a year later by beating Hendry 10-6, making him the youngest player to win a ranking title, aged 17 years and 358 days.
Ebdon, who faced O'Sullivan three times in his first season, said: "The signs were absolutely there to see that O'Sullivan could become the player that he did. He was an outstanding talent and extremely gifted.
"When I first played him he was nine years of age. He was a real talent then. I remember practising with him when his dad brought him into King's Cross snooker club and I was 14 at the time.
"I looked at him and thought, 'who is this young lad?' He played on the middle table and was potting balls everywhere."
'A creative genius'
Keeping the cue ball under close control is O'Sullivan's greatest asset, one which has helped him compile a record 906 centuries in his career.
He is not slowing down either. O'Sullivan has made 32 tons this season - no-one has more - and is on track to beat his best of 53 in the 2011-12 and 2013-14 seasons.
Hendry made 775 in his career, while Higgins, on 691, is the only player still competing that can chase him down.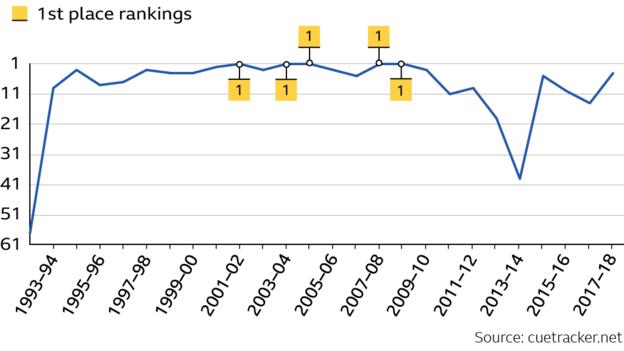 Ebdon said: "The number of centuries he has compiled is unbelievable. The record is phenomenal and O'Sullivan as a player is the complete package.
"He operates at genius level and he is a creative genius at snooker.
"He is capable of producing truly magical things and he does that because of his dedication, commitment, desire and mainly because of his thinking.
"Ronnie probably comes to the table and thinks about clearing every time. He is very good at working out patterns and strategies and is capable of pulling off shots that others would not even think of or see."
O'Sullivan has also made a record 13 televised 147s, including the quickest in history at five minutes 20 seconds in the 1997 World Championship.
Best win percentage... by far
O'Sullivan has played just short of 1,200 professional matches in his career and has a remarkable win percentage of 74.5.
Of the 12 players who have played more than 1,000 matches, Higgins has the next highest at 68.92.
The retired Hendry, who played 1,270, had a win percentage of 68.90, while Steve Davis won 63.3% of his 1,453 contests.
O'Sullivan has played 265 different opponents in his career, beating Dave Harold all 12 times he has faced him and Ali Carter 16 times in 17 matches.
Scotland's Higgins is O'Sullivan's most frequent opponent. They have met 64 times, with O'Sullivan winning 34 of them.
O'Sullivan has played 10 opponents once without beating them, most recently a 4-1 defeat by Elliot Slessor at last week's Northern Irish Open.
Ebdon said: "Both O'Sullivan and Higgins are so good that they can be at top of the sport for the next decade, if they are prepared to put the hard work in.
"They might not want to, though, instead looking after the family or doing other things off the table."
All stats courtesy of CueTracker.net