Northern Ireland Open: Mark Allen welcomes choice of Waterfront Hall as venue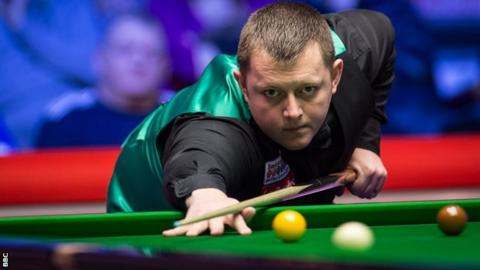 Mark Allen has welcomed the choice of the Waterfront Hall as the venue for next week's Northern Ireland Open.
The Antrim man will face English player Sanderson Lam in the first round.
"Playing at the Waterfront brings back good memories for me as I played my first ever tournament as a professional there in 2005," said Allen.
"It's been a great venue for snooker in Belfast down the years and I'm sure this year will be no different," added the world number six.
The Waterfront hosted the now defunct Northern Ireland Trophy between 2005 and 2008, with Allen a former semi-finalist in that competition.
The 31-year-old reached the quarter-finals of last year's Northern Ireland Open, which saw Mark King secure his first ever success in a ranking event at the Titanic Exhibition Centre.
"Last year there were mixed feelings about how the venue was but I don't think anyone will have any complaints whatsoever about the Waterfront," said the County Antrim player.
Allen moved up five places in the world rankings, to equal his career best position of sixth, thanks to a runner-up finish behind world champion Mark Selby in the recent International Championship in China and the Northern Irishman says he is continuing to "tinker" with his game.
Allen altering 'technique'
"Over the summer I tried to change my technique a little bit so that I would have something to fall back on when I'm in big pressure situation or when I'm struggling - when I'm not at my best on any given day I would have trigger points to fall back on."
"At the minute I'm not quite comfortable with them but in the long term it will definitely improve my game. It's just being able to trust it in those pressure situations but I know that will come with time."
The Northern Irishman has been working hard on his long potting, a facet of his game in which he believes he lags behind the world's leading players.
"I've been working hard on my long game over the past few months as I think that's what is separating me from the top five at the moment. My long potting is just not quite as good as theirs.
"I can score as well as anyone and I have the bottle when it comes to the pressure situations but against the very best in the longer matches you need to have everything.
"My long potting is getting better but it is just not there yet."
A field of 126 players will compete for the Alex Higgins Trophy at the tournament, which runs from 20-26 November, with English Open champion Ronnie O'Sullivan, Champion of Champions victor Shaun Murphy, John Higgins, Neil Robertson and Judd Trump among those taking part.
O'Sullivan could collect a bonus of £1m if he were to complete a clean sweep of the four Home Nations tournaments, with the Scottish Open and Welsh Open still to come in December and February respectively.