World Championship 2017: Ding Junhui's dynasty & China's snooker takeover
By Owen Phillips & Jamie Broughton
BBC Sport
Last updated on .From the section Snooker
Enter The Dragon: China's Snooker Star, narrated by Steve Davis
Watch on BBC World News on Saturday, 8 April at 12:30 BST, on Sunday, 9 April at 00:30, 07:30 and 19:30 (22:30 Latin and North America only), on the BBC News Channel on Saturday, 8 April at 13:30 and 16:30, on Sunday, 9 April at 05:30 and 14:30.
Click to
watch the programme on BBC iPlayer
China will become the snooker superpower within the next decade, according to the sport's supremo Barry Hearn.
Ding Junhui's continued success, along with the country's size, outstanding facilities and infrastructure, is spawning a generation of stars - who Hearn believes will dominate snooker for years.
"I would think that in five years half of the top 32 players will be Chinese," Hearn, chairman of World Snooker, told BBC Sport prior to the 40th anniversary of the World Championship being staged at Sheffield's Crucible Theatre.
"Ding has been one of the fundamental reasons why snooker has got so big. He has been the flagbearer of Chinese snooker for the past 10 to 12 years.
"He's inspired hundreds of thousands of Chinese snooker players and brought the game into the living rooms of the entire population."
An estimated 210 million people watched the 2016 World Championship on China's national state broadcaster, CCTV - with national legend Ding's run all the way to the final driving those startling figures.
Although the 30-year-old lost to world number one Mark Selby, Ding made history by becoming the first Asian player to feature in the final.
Snooker's biggest star in Britain, Ronnie O'Sullivan, also agrees with Hearn about China's inevitable rise.
"By 2025, you'll probably see the majority of the winners being Chinese," the five-time world champion said.
"The usual set of suspects will be there - Selby, Murphy, Trump, Kyren Wilson. But other than that I think it will be pretty Chinese dominated."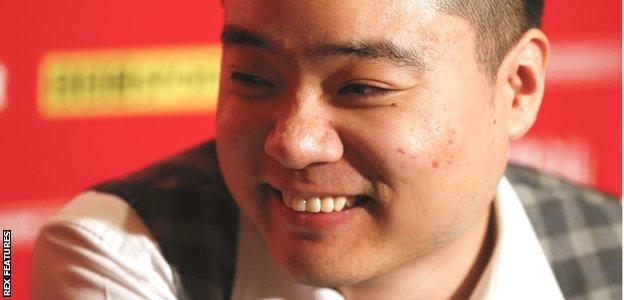 The Ding dynasty
World number five Shaun Murphy says Ding is the most highly recognised sports person in China "by a mile".
"He's bigger than Ronnie is back in the UK, than Davis was, than Stephen Hendry was, than Alex Higgins was; he's bigger than them all," Murphy said.
"The fans in China are fanatical about him. They camp out at hotel lobbies for him, he and his wife have to go out for meals in secret. He is an A-list celebrity in China."
China's supposed takeover of a sport so long dominated by the UK and Ireland has been predicted for years, but it is only recently that it is truly beginning to back up Ding's breakthrough.
Ding won his first ranking tournament in 2005 - aged 18 - by beating seven-time world champion Stephen Hendry in the final of the China Open.
Later that year he become the first player from outside the UK and Ireland to win the UK Championship, beating another legend - six-time world champion Steve Davis.
Ding has remained a constant figure at the top of the game, winning a total of 12 ranking titles and the knock-on effect is clear.
Ding explained: "Before, they had a lot of snooker fans. But there was nobody who could win the tournaments, so year by year the fans were leaving the sport.
"Then after 2005, I won it and the TV showed more snooker. Then the people brought their cues back to the tables."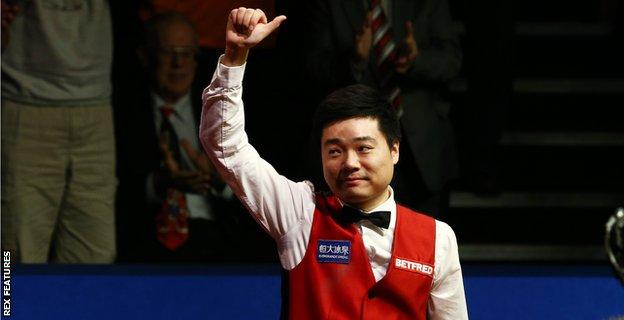 'He is like an elder brother to all of us'
About 70 million people play cue sports in China each week, including eight- and nine-ball pool, with the best young players coming to live and practise at the CBSA World Snooker Academy in Beijing.
There are 30 pupils, ranging in age from six to 22 years old. Practice is relentless. They play from Monday to Saturday, from 09:00 until 17:00.
Three players have qualified for the main snooker tour since the academy opened in September 2013, including Yan Bingtao, who beat world champion Selby at the Welsh Open this season. There are 17 professional Chinese players on the main 128 snooker tour, with a further 12 from other parts of Asia.
Ding is idolised, as both Yan and teenager Xu Si, the 2016 World Under-21 champion, explain.
"I picked up the cue all because of watching him," said Yan, the world number 63. "He is like an elder brother to all of us. We worship him."
Xu added: "For us junior players our desire is generated by Ding winning those tournaments, thinking if he is Chinese, we are too. If he can do this, we can too."
The business of sport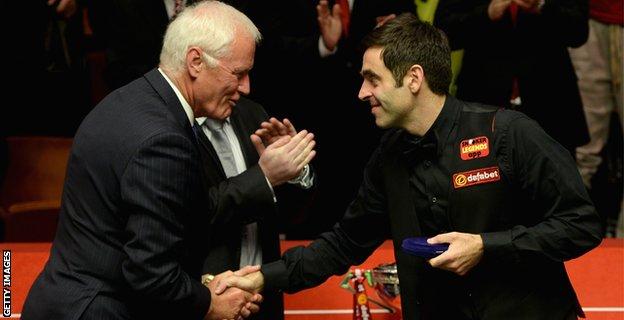 Hearn says the work that has gone into making sport a fundamental part of the school curriculum in China and at the "heart and soul" of the way of life is incredible.
Snooker is just one of the sports seeing the rewards, with huge national exposure, affordable participation and the power, as Hearn says, "to bring about a sense of pride to a country by the ability to win on international stages".
The sport in the UK reached new heights in 1985, when a television audience of 18.5 million people watched Dennis Taylor beat Steve Davis 18-17 in the famous black-ball World Championship final of 1985.
Hearn is proud of the numbers but mindful that those figures have since been dwarfed.
"We are terribly parochial - the English mindset. Or perhaps European mindset," Hearn said.
"Getting 18.5 million on the BBC, that's a fabulous figure, and will never be repeated again on terrestrial TV. But it's so tiny in comparison to the 400m people that watched last year's World Championships, because the game is global now."
Should we stay in Sheffield, or go?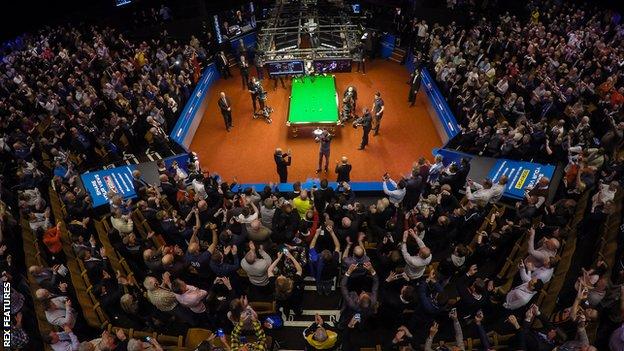 The World Championship has been held in Sheffield since 1977, and the city has a deal to keep it until 2027.
China would dearly love to stage the event, but there is strong resistance to seeing the flagship event leave theses shores.
Jason Ferguson, chairman of the World Professional Billiards and Snooker Association (WPBSA), the governing body to World Snooker, says that as a traditionalist keeping the tournament at the Crucible is "very important" while continuing to make the most of the growth in the Far East.
"In China, there's about 1,500 clubs in the big cities on average," Ferguson said.
"In the UK, sometimes we still carry a little bit of the old days of smoky halls. But here in China, we don't carry that reputation or that baggage. It's a clean market, it's a gentleman's sport, it's a global sport and it's a very good sport at grassroots level.
"We could put more events on, but it's important to manage our sport. It's no good if it becomes just a Chinese sport. It's no good if it's just a UK sport."
Watch live coverage of the 2017 World Championship on BBC TV, Red Button, Connected TV, online and the BBC Sport website and app.