Welsh Open 2017: Judd Trump to face Stuart Bingham in final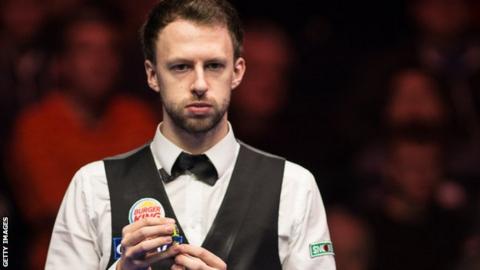 Judd Trump will face Stuart Bingham in Sunday's Welsh Open final after the Englishmen enjoyed comfortable wins in the last four in Cardiff.
Trump, the world number four, beat Scotland's Scott Donaldson 6-3 in the first of the semi-finals.
World number two Bingham then thrashed compatriot Robert Milkins 6-0.
"It's always special when you reach the semi-finals and finals," said Bristol's Trump, who last won a title at the European Masters in October.
"It's a different atmosphere out there and you really thrive off it, so for me to play in the final here, in kind of my home tournament - it would be an amazing achievement to win it."
Trump, 27, opened with a break of 131 but was pegged back from 4-1 to 4-3, making the decisive move with a 74 break in the eighth frame in Cardiff.
"I feel like I've really improved this season and it's taking people at the top of their game to beat me," he added.
"Every tournament I go into I'm fully prepared and give it my best shot. If I could win this and make it two ranking events in a season, it would feel like a step up to a different level."
Bingham, 40, played superbly, opening with a break of 127 and closing with a 101 as he raced through six frames.
"It all started off from a massive fluke in the first frame and to make a hundred off that settled me down and put Rob on the back foot," he said. "I punished him for every mistake."
Looking ahead to the final, Bingham added: "We've had some great matches and I'm looking forward to it. If I play like that, it's hopefully going to be a high-quality match."
Sign up to My Sport to follow snooker news and reports on the BBC app.