Stephen Hendry to play in World Seniors Championship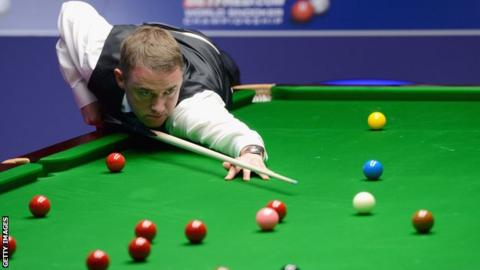 Seven-time world champion Stephen Hendry, who retired from the professional snooker tour five years ago, is to play in the World Seniors Championship in Scunthorpe in March.
The winner earns a place in qualifying for April's World Championship.
Hendry, 48, has consistently said he has no intention of entering qualifying for the Crucible, and has declined previous opportunities to participate.
"It is certainly not a foray back into the full-time arena," said Hendry.
He is the top seed for the Seniors event and will be joined by the likes of Cliff Thorburn, John Parrott, Dennis Taylor, Joe Johnson and Willie Thorne.
The Scot, who reached the quarter-final at his last World Championship in 2012, told the BBC: "I am looking forward to it, it will be fun.
"It can be a fantastic story for someone because anyone who is an amateur over 40 could qualify and beat one of us.
"I have to win the thing before I can even start to think about playing at the Crucible. I miss playing because it is what I am best at."