UK Championship 2016: Jamie Curtis-Barrett keen to succeed after tournament 'buzz'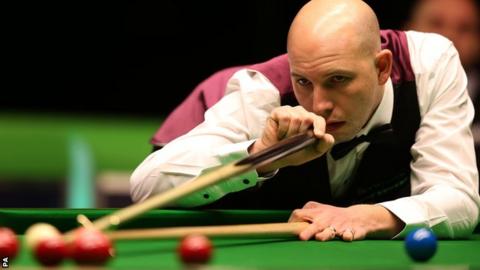 Betway UK Championship
Venue: York Barbican Dates: 22 November to 4 December
Coverage: Watch live on BBC TV, Connected TV, Red Button, BBC Sport website and app from Saturday, 26 November. TV times and channels
Jamie Curtis-Barrett says the "incredible buzz" of playing in the UK Championship has made him even more determined to succeed as a professional.
The world number 118, who is in the first year of a two-year tour card, lost 6-3 to Joe Perry in the first round at the York Barbican on Thursday.
But the Grimsby potter told BBC Sport he did not feel out of his depth against the world number nine.
"I loved it. Playing on the main tables at a big tournament with loads of travelling support was fantastic," the 32-year-old said.
READ MORE: Jamie Curtis-Barrett inspired by wife's cancer fight
UK Championship: Schedule and results
"He played well but I didn't think I deserved to be 4-0 down at the break. The interval came at the right time otherwise I think I could have lost 6-0.
"I didn't feel nervous before but I struggled to settle until I got a frame on the board. Joe said I had him on the ropes at 4-3.
"But there is no shame in losing to Joe; he is a great player and a class act."
Perry added: "I raced into a 4-0 lead, it was quite comfortable really and then I played a couple of loose shots, my concentration was poor and he got a bit of a head of steam going.
"He played well to be fair, I don't think I scored many points from 4-0 to 4-3. I missed a couple, but he shut me out a bit, started to play some good stuff and look really comfortable out there."
Curtis-Barrett only started playing top-level snooker following the death of his wife in March this year.
He had dozens of fans in York and is determined to make the most of every aspect of his snooker career.
"My supporters loved it as much as I did," Curtis-Barrett said. "Maybe they were a bit rowdy but they have seen what I have been through and just wanted to back me as much as they could.
"I am just looking forward. I loved playing in that environment. I was always on the back foot but it was great. There is so much to relish being out there and I did not feel out of my depth."
Sign up to My Sport to follow snooker news and reports on the BBC app.