Robert Milkins ready to 'take-off' after UK Championship win over Hamza Akbar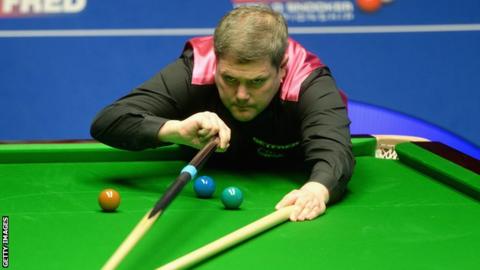 Robert Milkins feels his form is about to "take off" after ending a five-match losing streak with a first-round win in the UK Championship.
Milkins' five losses in-a-row, saw the 40-year-old slip to 31st in the world rankings, but he ended his slump with a 6-1 win over Hamza Akbar.
"I was under a lot of pressure because I just haven't won a match for ages.
"That is such a weight off my shoulders winning that. I needed it money-wise and ranking-wise," Milkins said.
The Gloucester potter, who plays Hammad Miah in the second round at the weekend, had his best run at the UK Championship in 2002 when he reached the quarter-finals.
He added: "I feel like I am going to take off but because I haven't won a match it has been really difficult. When things aren't going they aren't going, but maybe that is just the win I needed.
"I played alright. There weren't a lot of breaks but I didn't miss many balls.
"I have been playing so well in practice and I think that practice has got me through a few frames because I was really sharp.
"It's really tough when you are losing, any little thing can put you off. The last two or three matches I have lost because of my head and not because of how I have been playing. You get in a rut but I am out of it now."
Sign up to My Sport to follow snooker news and reports on the BBC app.