UK Championship: Sam Baird was 'desperate' to reach round two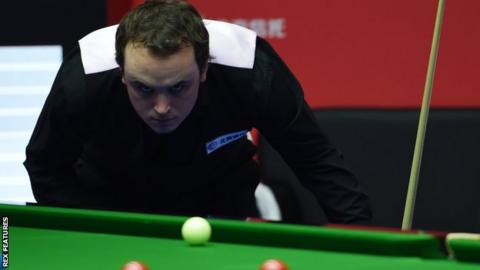 Sam Baird says he was "desperate" to end a run of three successive first-round defeats at the UK Championship after seeing off Sean O'Sullivan 6-2.
The Devon-born world number 46 was always in control against Londoner O'Sullivan.
But he felt he laboured at times before earning his place in round two at the York Barbican.
Baird, who now lives in Gloucester, told BBC Sport: "It was a struggle in places and 6-2 was not a fair result.
"He had three bad kicks at important times and it could easily have been 4-4. Some of it was really good but I made hard work of it at the end."
Baird, 28, faces Mitchell Mann - a surprise 6-3 winner over world number 13 Kyren Wilson - in the second round at the weekend.
"The last 64 is not my goal but the tournament has been a monkey on my back. Hopefully I can play better in the next match," said Baird.
"I didn't feel great before I went in. It was such a big game. I have never won any money in this tournament and was nervous but I handled it pretty well overall.
"At times I was too relaxed because I was saying I will be alright and all that rubbish. You are trying to concentrate and say it is just another game of snooker.
"But I have a bad history in the tournament and am so desperate to win every year so I am relieved."
Sign up to My Sport to follow snooker news and reports on the BBC app.