Northern Ireland Open snooker: Patrick Wallace relishing return to big stage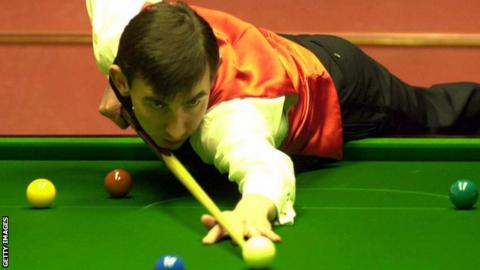 Former World Championship quarter-finalist Patrick Wallace says he will relish his return to the big stage at the inaugural Northern Ireland Open.
Tyrone man Wallace, a Crucible quarter-finalist in 2001, will play in Belfast after topping last season's Northern Ireland amateur rankings.
The Dungannon man, 47, will face world number 106 Michael Georgiou in the first round at next week's event.
"I thought my days of mixing it with the big boys were gone," said Wallace.
Wallace quit pro tour in 2011
The Northern Irishman played on the professional tour from 1994 to 2011 before returning home to work as an administrator for his father's company.
"When I left the pro game I wanted to continue at the highest level I could, because I love snooker and I've been playing since I was 10 years old.
"I still practise around 10 to 12 hours each week. I really enjoy competing in amateur tournaments and I have done pretty well in them," said Wallace, whose Northern Ireland Amateur title triumph last season helped book his spot in the Titanic Exhibition Centre event.
"There's a fantastic history of snooker in Northern Ireland so it's brilliant to have a big tournament back here, and for me to have the chance to play in it."
While he will compete in Belfast, Wallace has no plans to return to the tour full-time despite the increased amount of events now available to the game's top professionals.
"If I was young and single then I would jump at the opportunity because the number of events and the prize money are so much better than they were when I was a pro.
"But I have a family and a regular job now so it wouldn't be practical for me to try to get back on the tour."
Wallace in line to face Allen in Belfast
Victory for Wallace over Georgiou will set up a match against Northern Ireland's top player Mark Allen if the Antrim man overcomes Mark Joyce in round one.
"To play Mark would be a fabulous occasion," added Wallace, whose run to the last eight at the Crucible 15 years ago ended when he lost to close friend Joe Swail.
"But I can't think about that because I've just got to try to win my first game."
The tournament, part of a new Home Nations series, runs from 14-20 November and will see 128 players competing for the top prize of £70,000.
The winner will be the first recipient of the trophy named after Northern Ireland's two-time world champion Alex Higgins who died in 2010.