Ronnie O'Sullivan criticises referee standards in snooker
Last updated on .From the section Snooker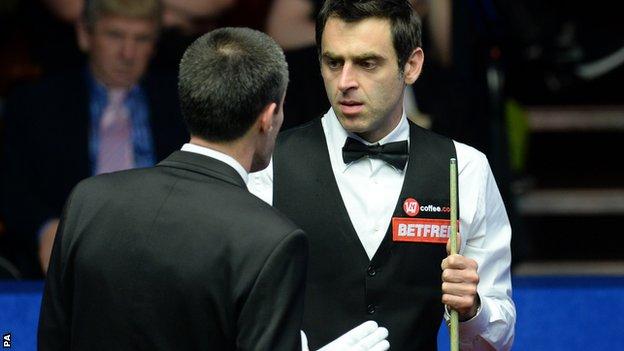 Five-time world snooker champion Ronnie O'Sullivan has criticised the standard of refereeing in the sport.
"The referee who was overseeing my game with Stuart Bingham kept walking around the table while I was on the shot," O'Sullivan said in his Eurosport blog.
O'Sullivan claimed a lack of match practice, as well as "distractions" were behind his quarter-final exit.
The Essex player caused controversy at the tournament when he briefly played in his socks in the opening-round win over qualifier Craig Steadman, as he was uncomfortable in the shoes he was wearing.
He came close to snapping his cue during his second-round match against Matthew Stevens and was then warned for making an obscene gesture in frustration.
O'Sullivan additionally escaped being reprimanded when he illegally placed the chalk on the table during his match against Bingham.
"I can't believe the uproar there was over the chalk," added O'Sullivan.
"It's not as if I was messing about moving balls, but again it shows you the referee didn't know the rules so how was I supposed to know it was illegal?"
He was not penalised by referee Terry Camilleri at the time, and World Snooker defended the official as "one of our top referees".
But O'Sullivan added: "I've had a few ding-dongs with referees this year. The standard of some of the refs has been below par.
"There's nothing worse then a ref breaking your rhythm."
The world number five blamed a lack of competitive match action for his form at the World Championship and said he may play more "when the tour gets a bit more sensible".
"The first reason why I think I came up short is because I only played around 30 matches last year," he said.
"Each of the semi-finalists at this year's World Championship played 100 or more matches. I believe they are battle-hardened."
However, he says Ding Junhui should increase the number of tournaments he plays to realise his potential.
Ding, world number four, missed a 147 chance during the tournament - appearing to forget he was on for a maximum. He was then comprehensively beaten 13-4 by Judd Trump at the quarter-final stage.
"He is a bit like me in refusing to enter smaller events. I'm not sure if Ding realises that," said O'Sullivan.
"If I was in Ding's shoes, I would definitely play more as he still has to win world titles to be classed as an all-time great.
"I feel he has the potential to be a great, but my advice to Ding is to be more active."
World Snooker declined to respond to O'Sullivan's comments.