Neil Robertson: UK Champion wants 'multiple' Triple Crown titles
By Owen Phillips
BBC Sport
Last updated on .From the section Snooker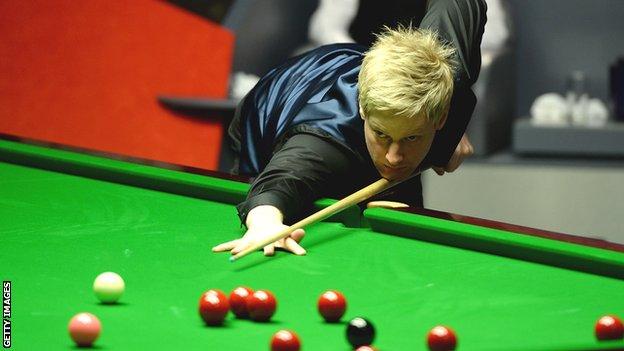 UK Championship, York Barbican
Dates:
25 November - 7 December
Coverage:
Watch live on BBC One, Two, Red Button, online, mobiles and BBC Sport app from Saturday, 29 November
Neil Robertson says he wants "multiple titles" in snooker's Triple Crown to be seen as one of the sport's greats.
But the 32-year-old Australian told BBC Sport: "I have won one of each but I want multiple titles.
"I am at the peak of my career so far, but there is more to come."
The world number two begins his title defence against amateur Joe O'Connor at the Barbican in York on Thursday and is proud to be part of an illustrious nine-man group to have won the Triple Crown.
Terry Griffiths, Alex Higgins, Steve Davis, Stephen Hendry, John Higgins, Ronnie O'Sullivan, Mark Williams and Mark Selby have completed that hat-trick, but only Davis, Hendry and Williams have done so in the same season.
"Joining these guys who are my idols - Ronnie O'Sullivan, Stephen Hendry, John Higgins, Steve Davis - it's incredible," said Robertson. "To be a part of that group is a wonderful feeling.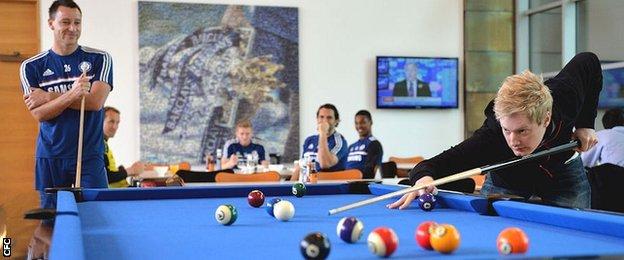 "Becoming the first non-British player to win all three was tremendous. I will always be the first non-Brit player to do that."
But he is far from satisfied with his achievements.
"Look at the tournaments they have won," the Melbourne-born player added. "They have won everything in the game. I love the history of the sport and I want to keep keep building my history as a player with more records.
"I am only 32 and Ronnie is 39, so I still have plenty of time. Ronnie has said he is still improving so there is no reason why I can't carry on winning things."
Robertson - nicknamed 'The Thunder from Down Under' - raised the standard to a new level in 2013-14, becoming the first player to make 100 centuries in a single season.
But the Cambridge-based left-hander has not become an overnight success. He was perilously close to giving up the game just over a decade ago.
"I almost wrote my career off," he said. "I wasn't quite good enough and I thought that ship had sailed.
"But I carried on, won the World Under-21 Championship in 2003 and got the tour card. I realised it was my last chance.
Neil Robertson - a football convert
"When I first came to England I hated football and knew nothing about it. Watching 0-0s and 1-0s having come from Aussie Rules was just dull. The only player I had heard of was David Beckham.
"But when I was living in Leicester I started watching Match of the Day and really got into Chelsea. They weren't the best team, but had
Jimmy Floyd Hasselbaink,
Eidur Gudjohnsen and Gianfranco Zola. I loved watching them, learned to love the game and have been into it ever since.
"I get along as much as I can and played pool with John Terry last season. He broke off and won the first frame and I won the second after breaking off and he wanted to stop there!"
"And to make the progress in that time has been pretty incredible. I do have to pinch myself from time to time."
The urge to be a success was strong but it also boiled down to a simple matter of having to make ends meet.
"The financial pressure when I was younger drove me on," Robertson said. "I knew I had to start paying the bills.
"I fell off the tour when I was younger and had to go back home and practise harder and get better. I realised it was the last chance."
The struggles have helped the 10-time ranking tournament winner appreciate the good times. He continues to help fellow Aussie and long-time friend Vinnie Calabrese both financially and on the baize.
"He's a fantastic guy and has a lot of talent," Robertson said. "I remember what it was like and I am glad to back him all the way."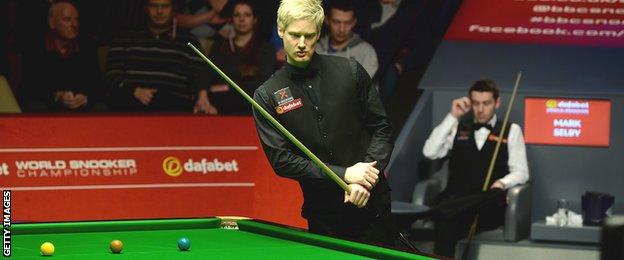 Calabrese enjoyed a fine first-round win over Dominic Dale last season, while Robertson romped through the early rounds on his way to the semi-finals, where he had to grind out a 9-8 victory over Stuart Bingham.
In the final he trailed Mark Selby 5-1 but turned things around in fine style to win 10-7.
"It wasn't looking good, but, if anything, being 5-1 down kind of released me and I ended up playing some of the best snooker I have ever played," Robertson said. "I had near enough three total clearances in five frames and closed out the match."
And he is in confident mood about defending his title this year.
"We have had five big tournaments this season and I have got to two finals and a semi-final," he said.
"I have already defended a big title in China this season, so I have to be pretty pleased with my results. As a top player you always expect a little bit more of yourself and always want to win more. But it is great coming here trying to defend another title having already defended one this season."