Neil Robertson: Tearful world number one sets new targets
Last updated on .From the section Snooker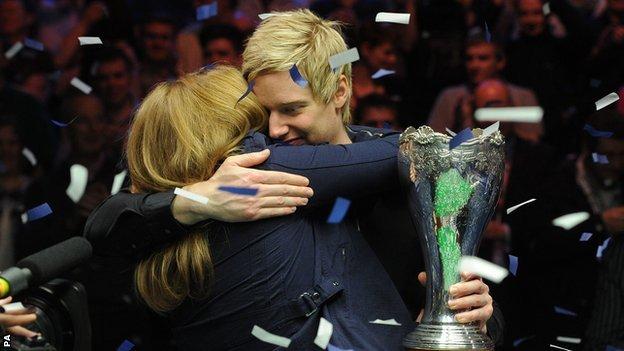 World number one Neil Robertson has said he will aim to win the Triple Crown in one season after an emotional
The Cambridge-based Australian defeated Mark Selby in Sunday's final to become the first overseas player to have claimed UK, World and Masters titles.
"It's the only time I've ever had tears in my eyes after winning a tournament," he told BBC Radio Cambridgeshire.
"To win all three is one of the most satisfying things in my career."
He added: "I'd love to win all three in the same season."
Just eight players have ever achieved the Triple Crown, while Steve Davis, Mark Williams and Stephen Hendry are the only men to have completed the feat in the same season.
Robertson, 31, who has nine ranking victories in total, won the World Championship in 2010 and has reached the last two Masters finals,
And the current campaign has started well for the Melbourne-born player, and before the weekend victory in York, where he was watched by his mother Alison.
"The way I've played over the past six or seven months, I think I really deserved to win the UK," he said. "I'm really satisfied with how the whole year has gone."
It has been nine years since Robertson left his home in Australia to move to Cambridge, where he has based himself at Willie Thorne's snooker club and practises
"When I first came over it was just about survival. Just try and earn enough so you can play the next season," he said.
"That pressure is off me now. I'm just challenging for titles now. To win nine ranking tournaments, plus the Masters - I've won everything in the game now.
"I guess I'm just going to try and repeat the achievements."