UK Championship: Ricky Walden 'chilled' and ready to seize chance
By Owen Phillips
BBC Sport
Last updated on .From the section Snooker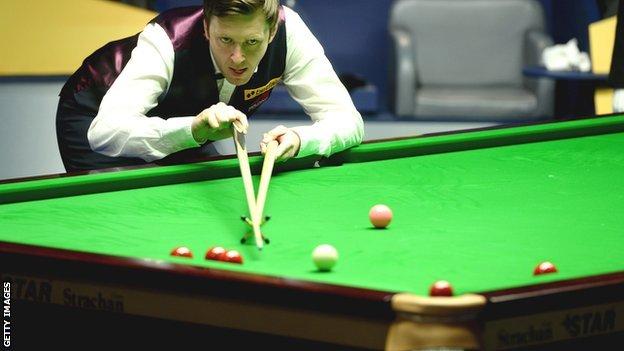 Ricky Walden says his run to the 2013 World Championship semi-finals has given him the maturity, mental strength and belief to mix with snooker's elite.
Despite mixed results since, Walden, 31, said he is in a good place.
"I take lots of heart from the Worlds," he told BBC Sport. "It didn't work out but I could've easily made the final."
The Chester-born player was leading Hawkins 12-8 in snooker's showpiece event of the season, but says the experience and his progress in the past couple of seasons has made him a far better player.
This season Walden has struggled in the ranking events, slipping from eighth place in the world.
But the two-time ranking event winner showed his quality with victory in the third European Tour Event in Doncaster in August, beating Ali Carter, Mark Allen, Shaun Murphy and Marco Fu to lift the title.
And Walden knows, given the relentless schedule and increased number of tournaments, a big part of the game now is dealing with the inevitable defeats.
He said: "In the past maybe I have got wound up and a bit stressed, but in the past couple of years I have played in more high-profile matches and have chilled out a bit more. Sometimes you do have to remind yourself that you just need to stay calm.
"Sometimes you need to relax and give yourself a break. In the Champion of Champions Cup, I lost 4-0 to Stuart [Bingham]. But he played really well and I lost and that's the way it goes. I hardly scored any points and couldn't get in the balls.
"Losing is frustrating but it's one of those things, you have to get used to it no matter who you are and you'd be an idiot to take it to heart.
"I have won a couple of tournaments in the past couple of years and naturally you gain confidence from that - and the run in the World Championship. I am older, wiser and more experienced and I am a dangerous player when I am in the right frame of mind."
Walden says the fact he is facing world number two Selby, who could regain his number one ranking if he wins the new-look tournament, is a good thing.
"I think I enjoy it more when I have a tough game," Walden added. "And he's a very tough opponent. I have known him and played against him since I was about nine.
"He is right at the top of the tree and such a good competitor. He's one of those players that can win when he's not at his best. That's something I am looking to do more and more."
Not that Walden, a UK Championship semi-finalist in 2011, feels he is playing badly as he looks to make the final of one of snooker's "Big Three" for the first time.
"I'm playing some good stuff, hitting the ball well and have played my way into the tournament," said Walden, who has won five matches at the event to reach the final four.
Mark Williams and Allen have both been beaten along the way, but the most eye-catching performance saw him end Ding Junhui's hopes of winning a fourth consecutive ranking event.
"That obviously helps your confidence," Walden said. "He was the man to beat. I didn't play my best but I stuck in there.
"The draw has been tough but maybe that has helped me. Sometimes when the draw has opened up, the pressure mounts up. This is a great opportunity."