UK Championship: Second table is garbage - Neil Robertson
Last updated on .From the section Snooker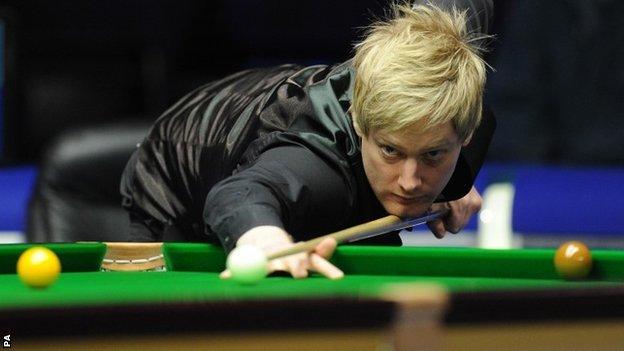 Neil Robertson has described the second table at the UK Championship as "absolute garbage" after beating Stephen Maguire 6-2 in the last eight.
The world number one played both his fourth round and quarter-final on the table as Ronnie O'Sullivan was scheduled to play on the main table.
He said: "I'm just glad they're taking it out of the arena now and we'll be playing on the main TV table."
Australian Robertson, 31, plays Stuart Bingham in the semi-finals.
Neither Robertson nor Maguire was in great form in the early stages of their quarter-final, but the Australian stretched out a 4-0 lead before Maguire got on the board.
A 128 clearance saw Robertson move to within a frame of victory, and although Scot Maguire won the next, the world number one edged a tight eighth frame to seal the match.
"Six-two was probably, again, an unfair reflection on the match," added Robertson. "Once again the table's just absolute garbage today, it's unplayable.
"Stephen was getting pretty angry with it himself. It's hard to criticise either Stephen or myself for the balls we missed or for some of the safety shots that were over-hit by six feet.
"There's just nothing you can do about it when you play a safety shot and you've hit it perfectly fine, the white should bounce no more than (two to three inches) off the baulk cushion and it ends up bouncing back past the baulk line, three feet or so.
"I don't know any other sport where you get punished for things that aren't your fault.
"Maybe golf with the elements, wind and what have you, but they kind of know that's coming. You don't know when a bad bounce is coming.
"You can't really play around it, you just have to plug away and I think I've probably just handled the conditions a little bit better than Stephen."
A spokesman for World Snooker said: "We always strive to provide optimum playing conditions.
"We re-clothed the tables on Sunday and will re-cloth them again tonight.
"It's an inexact science but we're always looking at ways to provide perfect conditions."