Vinnie Calabrese: Neil Robertson provides Aussie inspiration
By Owen Phillips
BBC Sport
Last updated on .From the section Snooker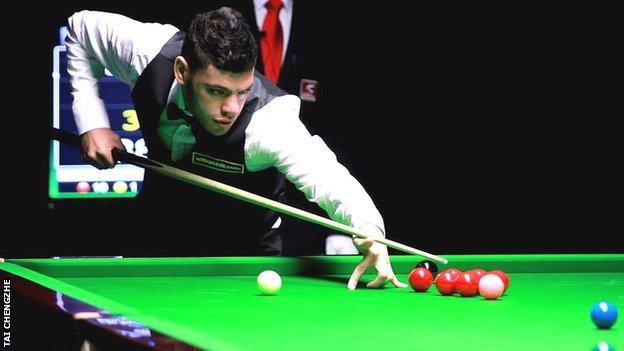 How does an Australian end up playing snooker for a living?
In a land where the sun generally shapes sporting stardom and winning the snooker World Championship only gets you fleeting recognition, you need serious encouragement and serious dedication.
First-year professional Vinnie Calabrese had, and still has, both.
His snooker past sounds probably not too dissimilar to the humble beginnings of many of the snooker-obsessed professionals currently playing on the circuit.
"My dad owned snooker clubs and when I was a toddler I used to lie on the floor potting balls into a hat," the 26-year-old world number 111 told BBC Sport.
The fact it was in Sydney and nearly all his mates were playing rugby league, Australian rules football, soccer or cricket is what makes it so surprising.
Cambridge-based Calabrese's snooker present has much more of an Aussie influence.
Calabrese's housemate - or generous landlord to be precise - is former world champion and current world number one Neil Robertson.
Robertson's quality has shone through in the UK Championship where he reached the final by fending off a fabulous Stuart Bingham fightback to secure a thrilling final-frame victory on Friday.
But Calabrese is grateful for his fellow Aussie's support on all levels.
"I cannot describe how much help he has been to me - on and off the table," said Calabrese, who reached the second round of the new-look UK Championship with an impressive win over world number 22 Dominic Dale.
"Neil's advice and support has been awesome. He lets me stay and does not charge me a penny.
"He was the same as me a few years back I suppose and remembers what he had to go through. I appreciate what he has done for me so much. But I think he likes having me around!"
Robertson blazed a trail on the baize in 2010, becoming the first Australian snooker World Champion and the first Aussie to reach a since the final since Eddie Charlton in 1975.
He left school at 15 to concentrate on his career and has been based in Cambridge since 2004, where he has regularly practised with Joe Perry.
Calabrese, who hails from Sutherland Shire, just south of Sydney, has benefited from being around both of them.
But any Aussie will have their work cut to help snooker raise up the television rankings down under.
While although sport-loving Australians are lapping up their current Ashes dominance, they are not following Robertson's run to the UK Championship final in their numbers. And they are certainly not racing to the snooker halls.
"Snooker's just not that popular back home," Calabrese explained. "Even when Neil won the world title it only just got on the sports news. And when he has won other big tournaments I don't think it even got a mention. Snooker is a bit of a dying spot in Australia."
Which begs the question, why did Calabrese - himself a talented soccer player - persist?
"At 12 or 13 I was a decent soccer player - one of the best at the standard around where I lived," he explained. "I was doing pretty well but my coach sort of told me I needed to make a choice.
"It came to crunch time and I was a much better snooker player than footballer.
"I was always the best junior snooker player at my age and just always favoured snooker."
Calabrese's older brother Chris was a top junior player and Vinnie grew up watching endless hours of out-of-date videotaped footage from major tournaments that were sent back home by friends from England.
"I used to watch all the old tapes that were sent over - real old school stuff. Seeing events from months previously - mainly players like Ronnie O'Sullivan, Stephen Hendry and Steve Davis
"Then when I was 12 Jimmy White was in an exhibition match over here and that made a big impression."
Fast forward around 15 years and Calabrese is relishing his chance mixing with snooker's elite.
The New South Welshman feels like he is beginning to settle after a mixed start to life on the tour. Early success saw him win two rounds to reach the last 64 at the Wuxi Classic in China in June where he lost 5-1 to John Higgins.
And he made it through to the last 16 at the third European Tour Event in Doncaster, beating Mark Selby, Dechewat Poomjaeng and David Morris on the way.
Since that tournament in August - the 6-red World Championship apart - he has not won a match until his impressive display against two-time raking event winner Dale last week.
Calabrese was unable to build on his victory over Dale in York either, losing to Gary Wilson in the second round.
But he is enjoying the challenge and beginning to feel more settled.
"Playing John Higgins was awesome," Calabrese added. "I started the season well but I have not won a game for three months.
"But now I have got a new cue and altered my style a bit and tried to relax a bit more. I became a bit too negative and that it is not really me.
"You have to play your safety at the right time, but there are much better players at that than me. Losing almost helped me relax and I have tried to play my natural game a bit more and go for things."
As well as providing rent-free lodgings, Robertson has also provided a few wise words for Calabrese on the table.
"I used to have a bit of a temper, but he tells me how important it is to keep my cool," said Calabrese, who watched his mate beat Bingham in York on Friday.
"He is one of the coolest players on the tour and he tells me not to put too much pressure on myself."
There are few better players to learn from than Robertson.