Ding Junhui beats James Wattana at UK Championship
Last updated on .From the section Snooker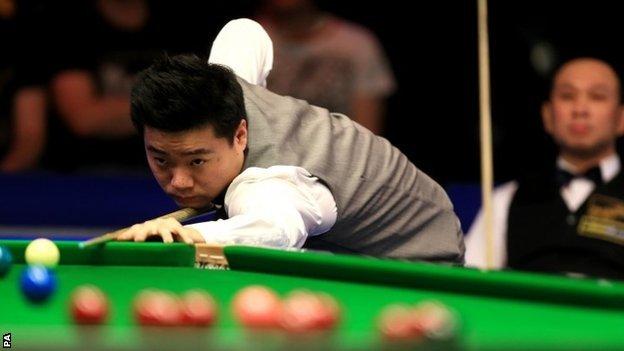 World number three Ding Junhui beat his childhood hero James Wattana 6-1 to move into the last 32 of the UK Championship in York.
Ding was barely troubled by the 43-year-old from Thailand, a former two-time World Championship semi-finalist.
Judd Trump, the world number four, also eased into the third round with a 6-0 victory over Dechawat Poomjaeng.
But Stephen Maguire had to battle for victory, while world number 13 Mark Davis was knocked out.
Maguire, the world number five, needed to win four frames in a row to beat Belgium's Luca Brecel 6-5 while Davis lost out by the same score to 19-year-old Scott Donaldson.
Ding is yet to reproduce the form that has brought him three successive ranking events and admitting to struggling against Wattana.
"It didn't feel like playing a match today, just a practice game. We know each other very well so it's very hard playing James," he said.
"I'm happy to get through but not happy with how I played today."
Trump, the 2011 champion, was looking good for a possible 147 at one stage against his Thai opponent before breaking down at 97.
"It was a bit too easy, I wanted to be pushed a little bit more. Apart from the 147 attempt, it was too easy," he said.
Asked at what point he felt the maximum bid was on, he said: "Before the frame started. Every frame, I'm going for a 147 - I've not done one on TV so that's my main aim.
"It was a good attempt. I had a kick and then got back into position and I just took my eye off the black."
Three-time champion John Higgins also had a comfortable time, beating Rod Lawler 6-1 with breaks of 77 in frame three, 128 in frame four and 72 in frame six helping him to victory.
"I managed to nick the first frame when it was pretty close and I think that set the tone," said Higgins.
"I got a couple of frames quite quickly after that so that got me in control of the game."
The 2003 champion Matthew Stevens needed a contender for shot of the tournament to finally beat Yu Delu 6-5.
The decider lasted over 40 minutes, with a good exchange of snookers on the colours, before the Welshman hammered a superb long pink into the yellow pocket to win while his fellow Welshman Mark Williams advanced after beating Rory McLeod 6-3
World number 12 Ricky Walden is also through after a 6-2 win over Leeds' Peter Lines, while world number nine Mark Allen defeated Dave Harold 6-3.
Stuart Bingham beat Jimmy White 6-2 but admitted afterwards that he was distracted by a minor car accident on Saturday involving his wife Michelle.
"My missus rung up - she had a car accident yesterday so I don't know if that's playing on my mind. Everything's all right but I was a bit worried about that," he said.