Ronnie O'Sullivan beats Rhys Clark 6-0 at UK Championship
Last updated on .From the section Snooker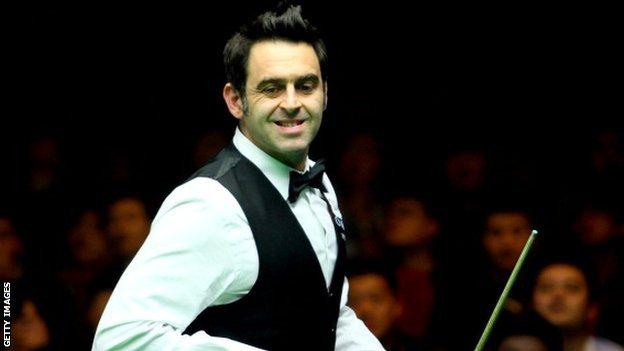 Ronnie O'Sullivan cruised into the second round of the UK Championship at York with an emphatic 6-0 win over 19-year-old Scottish amateur Rhys Clark.
The 37-year-old world champion was in such control he spent most of the match chasing a 147 break.
There is a £55,000 bonus pot for any maximums and O'Sullivan said: "From the second frame my focus was on a 147.
"The school fees have been paid last week and I thought I'll get a bit of Christmas money this week."
O'Sullivan, who won the last of his four UK crowns in 2007, enjoyed runs of 82 and 71 inside the first three frames and took advantage of several errors by Clark throughout the match.
"You could see Rhys was nervous but my next match will be tougher so I won't take as many risks," said O'Sullivan, who plays Adam Duffy in the next round.
Amateur Clark, from Stonehouse in South Lanarkshire, added: "I know it's Ronnie, but it's still embarrassing to get beat 6-0."
O'Sullivan showed the gulf in class by establishing an early lead and then took blacks with his first six reds in frame four, before losing position and missing the pink. A second visit of 54 wrapped up the frame.
Another maximum attempt in the next stalled when he missed a highly ambitious sixth red.
Asked about the new tournament format with all the top-ranked players involved from the first round, he said: "I think they should increase it and open it to more players because my time in the game is out so I'd like to see them suffer more.
"If I was 20 and had this format I'd be devastated but now I'm 38 it doesn't make much difference to me and I get some sadistic pleasure out of watching everyone go through it.
"I can understand some of the players' frustrations, but I'm looking forward to the next phase in my life, which is less snooker."
World number one Neil Robertson is also through to the second round with a 6-0 whitewash of 18-year-old amateur Dylan Mitchell.
But things were not so easy for defending champion Mark Selby, who was pushed hard by 15-year-old amateur Shane Castle.
The youngster from Southampton was level at 4-4 before Selby eventually won 6-4. He will face Chinese player Tian Pengfei in the second round.
Peter Ebdon, the 2002 world champion, was beaten 6-1 in the second round by Irishman David Morris, who will be joined in the last 32 by Graeme Dott, after he edged past the experienced Nigel Bond 6-5 with a 52 break in the decider.
Dott will face Ali Carter in his next match, after the Englishman whitewashed Jimmy Robertson, while World Championship runner-up Barry Hawkins joins them in the third round after beating China's Zhang Anda 6-3, having trailed 3-2.
China's Liang Wenbo is also through to the third round after beating Michael Leslie 6-3, and now faces either Belgian teenager Luca Brecel or 2004 champion Stephen Maguire of Scotland.