UK Championships: Michael Wasley rues 'worst' performance
Last updated on .From the section Snooker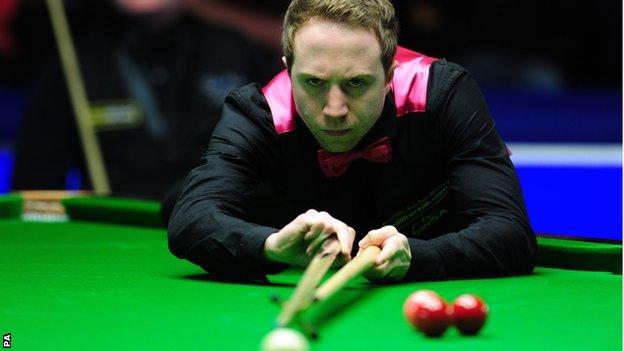 Michael Wasley has bowed out of the UK Championship in the first round with a display he described as his worst of the season.
The 23-year-old Gloucester potter, who turned professional last year, was beaten 6-4 in York by snooker legend Jimmy White.
"My form has been good but I turned up and didn't really do anything," the world number 74 said.
"It's probably the worst I have played all season."
White praised Wasley for his honesty when declaring a foul for brushing a black with his sleeve when the match was delicately poised.
And Wasley said it was a crucial moment in the match.
"After the interval I came back to 3-3 and looked like I was about to dominate and play some good snooker," he said.
"But I fouled on the black, lost the frame and it turned the match completely."
Wasley made no excuses for his performance and said he had no idea why he struggled so much.
"He was the better player on the day. I couldn't get going - there was nothing there," he added.
"It's a massive opportunity missed and I am really disappointed with myself.
"When you put in all that time and preparation, you expect to do it out there and I didn't."
Wasley, who is into the second year of a two-year tour card, knows he needs to bounce back to make sure he stays on the tour next season.
"The season has been going OK but there is room for improvement and am looking to do a bit better in the second half of the season," he said.
"I just need to get straight back on the horse now."