Ronnie O'Sullivan opponent Rhys Clark, 19, ready for 'biggest match'
By Kenny Crawford
BBC Scotland
Last updated on .From the section Snooker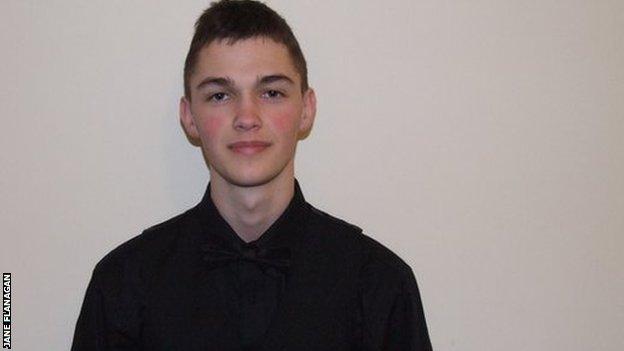 One single millimetre can be the difference between winning and losing in snooker.
So in Rhys Clark's book, a three-mile misjudgement is a bit of a big deal.
The 19-year-old amateur's profile could rocket because of his impending UK Championship first round meeting with Ronnie O'Sullivan on Saturday.
But before that, clarifying exactly where he hails from is important to the young Scot.
Many newspapers and websites have incorrectly reported that Clark is from the South Lanarkshire town of Larkhall, rather than Stonehouse, which is a few miles down the road.
"Yes, it's Stonehouse," Clark told BBC Scotland. "Definitely."
Since a visit to a snooker hall as a pool-loving 11-year-old, Clark has never looked back, revealing that his love for the sport "just steadily got more serious".
He is nowhere near giving himself the kind of complimentary nicknames bestowed upon his opponent, even though "Rhys Lightning" would surely have to be up there as a contender.
But he does admit this could be a life-changing weekend.
Win or lose, his name becomes much more well known both on the circuit and to a world audience familiar with Scottish talent like Stephen Hendry, John Higgins, Graeme Dott, Alan McManus and others.
"Yes it's pretty exciting to think that that could happen," said Clark, a former pupil at Hamilton College.
"But right now I'm just thinking about the game and playing well. Whatever comes from it, I'll know at the time, but at the moment I'm just focusing on trying to do my best."
Clark is used to plying his trade in the local amateur tournaments in Scotland to qualify for some of the bigger championships.
But because of his good ranking in World Snooker's qualifying school, he's been invited to all the professional competitions so far this season, including the UK Championship in York, which has all 128 players starting at the first round stage in a new format.
"I knew that if I entered it I'd get a top player because of the way the seeding goes," explained Clark.
"Part of it is the experience of playing at this level - I'll learn a lot from this game - and also the experience of playing in a massive event like the UK [Championship] on TV.
"Even if I was to get beaten badly, you could just take all the positives out of it you wanted."
Given that he's played the likes of Judd Trump and Barry Hawkins before, Clark has already come up against stars of the sport.
However, no name in snooker at the moment quite turns heads like O'Sullivan.
"Obviously this'll be the biggest match that I've played," said Clark, who'll have his mum, dad and little brother in the crowd on Saturday.
"Normally at tournaments Ronnie shows up very close to the start of the match and just sort of walks on. So I can't imagine we'll speak before it.
"I like to attack and get the balls open and get in and score. Against Ronnie, it's going to be difficult, but I'm not really a fan of safety play and definitely not of slow play.
"Ronnie won't have seen me play before and I'm guessing Mark Selby's the same with [15-year-old amateur] Shane Castle.
"So, on paper anyway, they've got a lot to lose. But once these guys get out and play I don't think they worry too much about their opponents."
After helping set up the interview with Rhys, his mum Jane sent the following text message:
"Thank you for taking time to talk to Rhys.
"This is a major event for him. I am so proud and pleased for him.
"He did tell you we are in Stonehouse?"