UK Snooker Championship 2013: Higginson boosted by win
Last updated on .From the section Snooker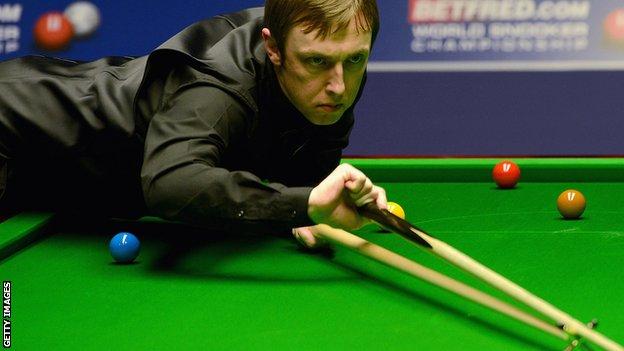 Andrew Higginson hopes his victory over Hammad Miah at the UK Championship will kick-start his season.
"I could have easily been 4-2 down rather than 4-2 up, but I took the chances when it mattered," Higginson, 35, said after his 6-2 first-round win.
"I've not had the greatest season. We still have half to go. Hopefully that match is the start of a good spell."
The Cheshire-born player, who now lives in Widnes, led 3-1 after a scrappy opening. Miah pulled a frame back, but Higginson knocked in a fine break of 74 to settle his nerves and then eased to victory.
Higginson said this competition is the ideal place to find his best form.
He added: "The UK is the second biggest tournament in my eyes and if you can go far in this one then you have done something - plus it gives a chance for your family to see you on television!
"I know everyone says it, but I have been playing so well in practice.
"At the start of that match, I felt like I hadn't played the game before. It was really weird. Towards the end of the match I played a little bit better so I can take confidence from that.
"It's a start in the tournament and when you get to any event you just want to get that first win under your belt."
Higginson will play Li Hang in the second round.