UK Championship 2013: Hendry and Doherty predict surprises
By Shamoon Hafez
BBC Sport
Last updated on .From the section Snooker55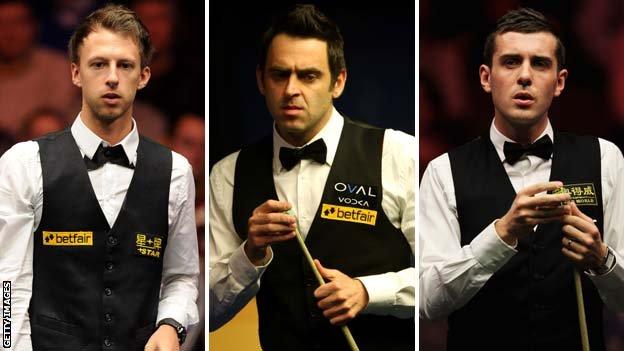 Competing against your childhood heroes is a dream for every aspiring sportsman, and some will be lucky enough to get this opportunity in the revamped format of the UK Championship.
It is one of eight snooker events where all 128 players enter at the first-round stage. Seven amateurs are participating after the same number of professionals pulled out - and they will face some of the biggest names in the sport.
The top 16 players have lost their protection in ranking events, having previously gone through automatically to the last-32 stage.
BBC Sport pundits Stephen Hendry, the seven-time world champion, and Ken Doherty, who reached three UK Championship finals, explain the consequences of the changes to the top 16 and the players who look most likely to lift the crown.
What impact will the new format have?
Stephen Hendry: The new format is going to take the top players out of their comfort zone, when previously they had fewer rounds to play. They now have two more matches than they would normally have at the UK Championship and it will be an irritation for them.
There will be an intimidation factor for the younger players against the top ones but they need to learn some time and this is what they turned professional to do - playing the best players at the best venues.
Ken Doherty: It is good for the game with everybody starting in round one. The top 16 and even some of the top 32 players didn't like the idea of it as it levels out the playing field but it allows the younger players to come through quicker. It is a better and fairer system with everyone starting at the same stage.
I don't think we will see more one-sided matches, but the younger players and those new to the tour have shown they can create shocks. Nobody is a pushover anymore because the standard is so high. There will be potential banana skin matches for some of the top players.
How important is the UK Championship?
Scot Hendry won the title five times in his career, while Irishman Doherty lost in three finals and plays John Astley in the first round this year.
SH: The three BBC events - the World Championship, UK Championship and Masters - are ones that the players will always want to win. Although there are more ranking events in China, it is still a massively UK-based sport in terms of the players. All the players have grown up watching the big tournaments on BBC and they will want to do well in them.
KD: It is a very special tournament and for me, the third major in the snooker calendar. The World Championship is obviously the top tournament, the Masters follows - despite only being an invitational event - and then the UK. All the players look forward to it and unfortunately, for me, I lost in three finals and never got to hold the beautiful trophy.
Are we seeing the start of a Ding domination?
This season, China's Ding Junhui became the first player since Hendry in 1993 to win three successive ranking event titles following triumphs at the Shanghai Masters,Indian Open and International Championship. He has also won the UK Championship twice - in 2005 and 2009.
SH: I don't think so. There are so many tournaments to play nowadays and if you do manage to hit a rich vein of form, you have opportunities to win three or four titles consecutively. Previously, when I was playing, we had to wait three or four weeks for the next tournament so it was sometimes difficult to keep the momentum going. Nowadays, players such as Ding, Neil Robertson and Mark Selby and have a chance of winning a number of tournaments in a row.
He kicked off his career with a bang, winning titles really quickly and in the last couple of years - despite winning the odd tournament - he had gone a little quiet. I am hoping this is going to be the second-coming of Ding and there is an opportunity for him to try and dominate the sport.
KD: No. Ding is playing really well at the moment, looking good around the table and seems confident, but I don't think anybody is going to dominate the game like Steve Davis did in the 1980s and Hendry in the 90s. You will get players who go on a run during the season, like Ding has done, but there are too many good players now and it will be too difficult to dominate.
He is starting to show his true potential and winning on a consistent basis. It is good for the game and the interest in China. He is a very dangerous player, has bags of ability but sometimes his concentration and confidence has let him down.
Is Ronnie O'Sullivan still the man to beat?
World champion O'Sullivan took a substantial break away from the sport last season but has competed more regularly this season, being crowned the Champion of Champions, winning the Paul Hunter Classic and losing in the final of an European Tour event to Mark Selby in Antwerp.
SH: To have your best player not playing, like most of last season for O'Sullivan, is a negative for any sport. If he plays to his ability and to his true potential, he will win but it is not as automatic as that. You can't just take it for granted that he will lift the trophy at the end. It depends on how motivated and focused he is and how much he wants to win it.
KD: It is good to see he has got his hunger back for the sport and wants to play, but you never know what you are going to get with him. When O'Sullivan is in full flow, there is nobody better to watch on a snooker table. The drama he creates, the excitement he brings to the fans. He is the main man, the favourite and all the players will be looking to beat him.
What's gone wrong with Judd Trump?

2011 champion Trump has suffered a dip in form this season and has failed to win an event so far.
SH: I would hope Judd is disappointed with the season he has had so far. I assume he is because he has not won anything. He needs to turn it around for the second half of the season and do well in some of the smaller Players Tour Championship events that he plays in.
KD: He hasn't been playing well and needs a run in the tournament. He is going through a crisis of confidence and when he gets it back, he will be great to watch. He is a very exciting player because of the talent he has and the balls he can pot. Hopefully, he can get his form back soon. Every player goes through it and needs a few good wins against some top players.
Who are the other contenders?
SH: Mark Selby looks like he is coming to some form at a good time in the season, with the UK and Masters being played close to each other. John Higgins is still one of the best players in the world and if he can gain some form then he has a chance.
KD: Selby will be one to look out for having won it last year. Neil Robertson is another that will give problems to any player. There is an undercurrent of four or five others who can possibly win the championship. Any time you have Higgins in a tournament, it will be exciting to watch and there will be some real quality on show.