UK Championship: Mark Davis winning the mental battle
By Owen Phillips
BBC Sport at the Barbican Centre, York
Last updated on .From the section Snooker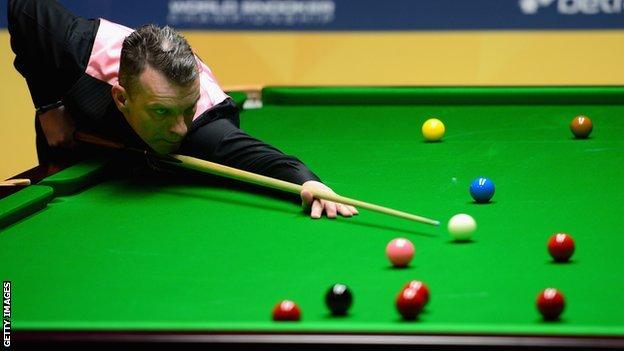 There was one member of the family not offering unwavering support when Mark Davis was looking to round off the best season of his 22-year professional career with a good showing at last season's World Championship.
Normally you can rely on your nearest and dearest.
But Davis's then five-year-old daughter was only interested in getting her daddy back.
Davis, 41, had just beaten four-time world champion John Higgins in the first round. The snooker fraternity were impressed. Millie, now six, less so.
"I spoke to her on the phone," the world number 13 told BBC Sport. "And she said 'Daddy why couldn't you lose so you could come home?'"
Stuart Bingham made Millie's wishes come true, beating the Sussex man 13-10 to reach the quarter-finals of snooker's showpiece event and shatter Davis's hope of a fairytale end to the season.
Reaching three ranking event semi-finals and winning the 6-Red World Championship - a title he retained this season - was still an undoubted success.
However that success has been a long time coming.
Having turned professional in 1991, Davis spent most of the next 20 years battling his mind as much as his opponent and the run of the balls. His improvement since then is down to a new mental toughness.
But ditching the mental baggage which afflicted his career for so long did not come easy.
He said: "When you have the same bad mental preparation and bad mindset going into matches, it's very difficult to change when you have been doing it for so long.
"I have a long way to go yet. I had 20 years of terrible thoughts so there is a still a lot of work to be done. I crumbled in loads of games. Some matches I knew I was going to lose. I didn't fancy beating anybody.
"Maybe there were lots of other players who thought that, I just thought I was the worst.
"Basically it comes down to lacking self-belief and I had that for a lot of years. The worst thing can be waiting to start a match. Once the game started I would be able to concentrate.
"But sometimes it could carry on in to it and you would have a shocker and it would be a bit embarrassing."
Davis decided the only way to move his career onto the next level was to seek help.
He was one of a long line of players queuing up to enlist the services of former world champion Terry Griffiths. And the Sussex man acknowledges the Welshman's gargantuan contribution.
"I had the opportunity to work with Terry and that has been massive," Davis said. "He has helped a lot of players and he has been brilliant.
"Even though I have been getting results - otherwise I would have been off the tour years ago - I wasn't perhaps getting as much as I should be. Terry just made me think a little bit better and a little bit clearer.
"You have to be able to play the game to start with, and be able to learn the shots and know what you are doing. But once you get to a level, a lot is in the mind.
"If you look at the guys who have done the best they deal with the pressure. There has never been anyone better under pressure than Stephen Hendry. Under pressure, he would go up a gear rather than go down mentally. The best players don't deteriorate, they get stronger."
Davis fully appreciates the improvements his new-found clarity has given him - even if it has shocked many people that it has come at such a late stage in his career.
"It's been a little bit unexpected because I had so many years where I wasn't really doing much in the game," Davis said.
"People were making a big deal out of my age, but I don't think it is a big deal.
"I had just gone through the motions and not tried to change anything even though I was having average seasons and just staying in the top 48 or top 32.
"But with the changes I have made, I knew things would improve. So much of the game is in the head; you can't let one bad miss ruin three or four good frames. You have to deal with missing the odd ball."
This season has been steady rather than spectacular but Davis is happy enough with his form and desperate to build on last season and finally deliver a ranking title.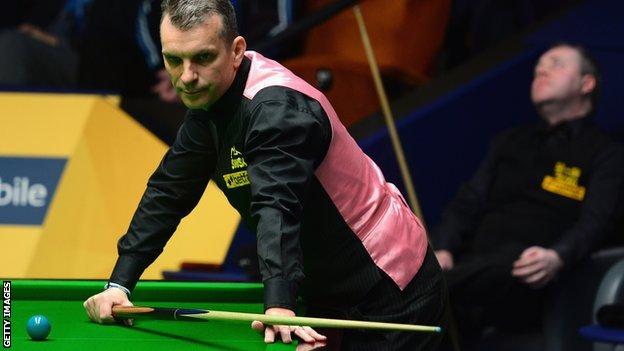 Davis lost 4-0 to Ronnie O'Sullivan in the group stage of the Champion of Champions tournament in Coventry last week but has had time to prepare before facing Robin Hull in the first round of new-look UK Championship on Friday.
"I'm looking forward to the UK Championship. It's a huge tournament," said Davis.
"Basically the aim is to win a ranking event this season. Last season was a good season but I want to push on. I am pleased to be ranked where I am and I want to get in the Masters again. But I would love to win a ranking event."
The only flip side of the success is not being at home as much - hence the odd tugging-at-the-heartstring moment with his daughter.
But Davis, who has done a book-keeping course with an eye on life after snooker, is the last to complain. His renaissance has coincided with Barry Hearn's era as World Professional Billiards and Snooker Association chairman and he is embracing it.
More tournaments, more opportunities, more interest - and potentially more rewards.
"I will never moan about playing so much and the travelling. It's a great problem to have," Davis added.
"I still want to do as well as I can out of the game. I don't know how long I have left to play. But I am not silly.
"I am not 21 and I realise I probably haven't got too many years to try to earn a half-decent living and try to tuck a bit of money away for when I retire."
Millie may have to get used to seeing a bit less of her dad for a bit longer yet.