Michael Holt out to prove he is more than snooker's nearly man
By Owen Phillips
BBC Sport
Last updated on .From the section Snooker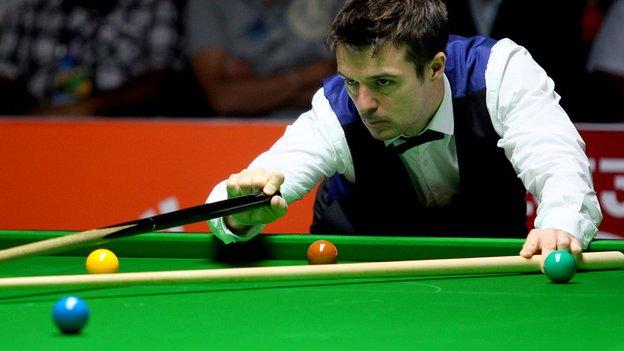 Michael Holt does not want to be remembered as a nearly man - a player with plenty of talent but one lacking the mental strength to convert that talent into titles.
At 35, and with 14 years' tour experience to call upon, he is convinced he is in a good place to finally make the breakthrough.
Some encouraging early-season results - including reaching his first ranking event semi-final - gives credibility to that belief. So does his considerable experience.
"At 35 I have missed every shot and lost from every position, but I can use my experiences, good and bad as a positive," Holt told BBC Sport before his UK Championship first-round tie against Lee Page.
"I feel I am a better player now than I have ever been. I have picked up a lot of knowledge and I need to use that."
His career is littered with too many painful memories of stage fright at the big venues, and a fragile mental state that has seen him crumble when it matters.
But Holt still loves what he does and feels blessed. The Nottingham potter just wants a bit more.
"You would think with my results there over the years I would be dreading playing at big venues," he said.
"But I genuinely look forward to it every time I go out there. I don't enjoy the fact I am not quite doing it - that is annoying to say the least.
"But I am an extrovert; I want to enjoy myself and play with a smile on my face and I appreciate it all the time. When you are losing it is difficult."
The success at the Shanghai Masters where he thrashed Judd Trump 5-1 on the way to the final four, was a good start.
"It was great," Holt added. "Not so much to get to the semi-finals, because it's only a semi-final and it's not like I have won the World Championship, but it is progress.
"I played well against Judd and carried it on. I have been guilty of not putting results together in the past which is why I get to the last 32 and last 16. I can build on it and hopefully I can put myself in that position again."
Another sign of increasing consistency came when Holt went one better at the Second Asian Tour event in China in September, losing 4-1 to Ju Reti in the final.
But his showing at this year's World Championship in April, where he was thrashed 10-1 by Ricky Walden after a disastrous start and a couple of glaring misses, still irks him.
"I was 6-0 down and I shouldn't have been," Holt recalls through gritted teeth.
"It just got away from me. I took my eye off a blue and it was madness - really annoying.
"You see a lot of sessions there that are lost 7-1 and the player on the wrong end of it can often be thinking 'I could be 5-3 or 6-2 up here'.
"With the way my career has gone I am trying so hard to go out there and show how I can play, that I am not scared, that I am trying so hard that I sometimes stop myself from playing.
"You can't have that attitude, you are under enough pressure as it is.
"I am inconsistent and I can be inconsistent in practice. The times I have ever done well I have just felt a calmness and it is hard to put myself in that state consciously.
"But you are playing good players and people say 'why have you lost that?'. Sometimes you just get beat."
Holt takes tremendous encouragement from Mark Davis, who at 41 has shown that age is no barrier by breaking into the top 16.
"Mark is a great example," Holt added. "He is over 40 and by the traditions of the game he should be finished, but he is playing the best snooker of his life.
"Something has happened and he has finally performed. He was a player that couldn't get in the top 32 for years and nearly chucked it. But everybody knew he could play. Now all of a sudden, he is one of the best players in the world.
"He hasn't all of a sudden been able to play better, he is just doing it out there and that it is in your head.
"There are a few players that are just a bit better than everyone else like Ronnie O'Sullivan, Mark Williams - you have to concede that.
"There are better players, but everybody is good enough to win tournaments - it's whether you can handle the situation."
And Holt is convinced time is still very much on his side.
He said: "I have never worried about getting older. I still feel like a young man. One of my biggest hobbies is fitness and I am probably fitter than a lot of 25-year-olds on the tour."
And come what may he still loves the sport he got into as a lad of six who had to stand on crates to reach the table. His dad was a pub landlord and having got hooked on pool and snooker at a young age, he has never lost his appetite for the game.
"You get tired sometimes, a bit of jet-lag but we are blessed to do what we do," Holt said. "There are people getting up at six and driving for two hours to get to work every day. We just have to play snooker.
"Sometimes you have to smell the roses - whatever you do. It has its ups and downs and when you lose it can be devastating. But I love playing snooker. It's not a chore.
"I want to win a major event - I have always wanted to do that. Rankings don't really bother me. I would rather be world champion than world number one.
"Dominic Dale has never been in the top 16 but he has won two major events. I would rather have his career all day.
"He had those two weeks where he has been the best player there and has lifted the trophy and that's what you play for."
Holt just needs to get the mental side of his game right. He has always over-analysed and fretted when he is playing.
"I cannot remember a time - even as kid - when I felt completely free," Holt said. "My biggest problem snooker-wise is that I am aware of everything and that is not an asset.
"There have been some incredibly good snooker players who are good because they are daft.
"If you can switch off and go into a zone easily that is a big asset. When the pressure gets to you, naturally your brain wants to think of something else.
"A one-track mind has made some great champions. But it's something I have to battle with."