Wuxi Classic: Neil Robertson beats John Higgins in China final
Last updated on .From the section Snooker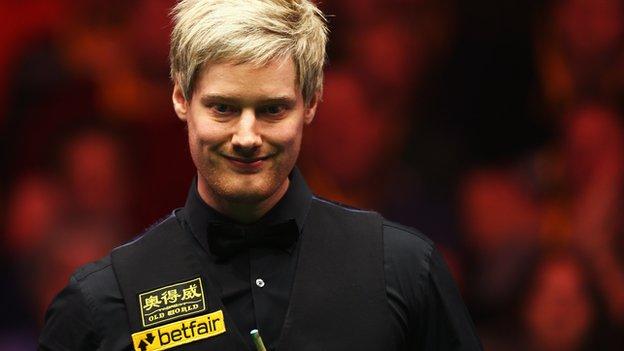 World number one Neil Robertson has beaten Scotland's John Higgins 10-7 to win the Wuxi Classic in China.
The 31-year-old Australian, winner of the China Open in March, dominated the final session to secure the title in the first ranking event of the season.
It was a reversal in fortunes after four-time world champion Higgins had beaten Robertson in the final of the Bulgarian Open two weeks ago.
"This is easily one of the proudest moments of my career," said Robertson.
"It's unbelievable to win two titles in a row in China because a couple of years ago I would have been happy just to win back-to-back matches here," Robertson told worldsnooker.com.
"I always knew I could win tournaments in the UK, but there was a question mark over whether I could deal with playing in China.
"The playing conditions here this week have been the best I have ever played in. I'll go to the Shanghai Masters in September full of confidence and there's no reason why I can't win three in a row in China."
Higgins had led 5-4 after the opening session but Robertson, the 2010 world champion, won six of the next eight frames.
Six in a row took him from 5-2 down to 8-5 ahead and, even though Higgins twice got back to within two, Robertson was able to hold on for his eighth major career win.
Robertson believes a different approach to the game has been the key to his current success.
"I've made a change to my game this season," he said. "I'm playing a lot quicker - especially compared to the match against Robert Milkins at the World Championship, when I got too negative and played too slowly.
"This week I have attacked and played quickly. It helps get the crowd on your side if you are more fluent and I'm going to stick with it."
Higgins also came in for praise from Robertson, who described him as one of the greatest players of all time.
"John was a hero of mine growing up, so just to play him in a final was an honour, and to beat him is a dream come true," Robertson added.
"I have so much respect for him. I think whoever ends up with more world titles between him and Ronnie O'Sullivan will be considered the greatest player of all time.
"I'm very proud to have played that well against him in a final and it's a moment I will always remember."
He had comfortably beaten Robert Milkins - to whom he lost in the first round of the 2013 World Championship - 6-2 on Saturday to earn his place in the final, while Higgins, 38, beat Welshman Matthew Stevens by the same score.
Robertson's latest victory in China confirms he is in good form ahead of his home event, the Australian Open, in July.