Reanne Evans thinks women are good enough to compete at top
Last updated on .From the section Snooker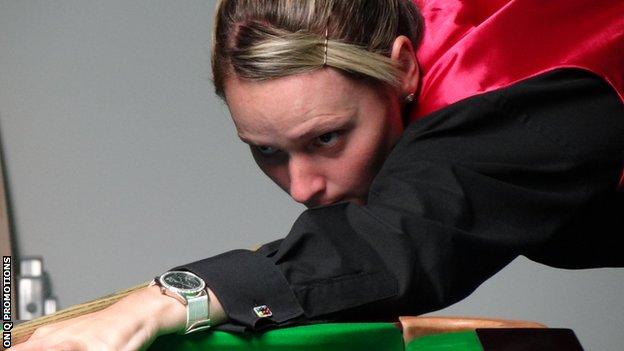 Relaxing in the sunshine in Salford after completing a succession of interviews it was hard to imagine this is all new to Reanne Evans.
Since coming from 3-0 down to beat world number 69 Thepchaiya Un-Nooh 4-3 she has found the interest a pleasant surprise.
"This is all new to me but it's fantastic really to build my profile," she told BBC Sport.
"I have been told to expect all this again out in China but I can't grumble because I have been waiting years to do this."
Evans, from the West Midlands, can at least escape the madness momentarily as she enjoys a family holiday before jetting off to China on 10 June to face world number two Neil Robertson.
And with news reaching her that her face is currently adorning buildings in China, she had better make sure she does relax over the next week but her young daughter will make sure she switches off.
"It has all been a bit of a shock because it's just me from Dudley and I am getting coverage everywhere but it's been fantastic."
Despite all the hype this time round, playing on the main tour is nothing new for the nine-time women's world champion. She was handed a wild card to compete on the men's tour for the 2010-11 season and thinks it made her a better player.
"Although I didn't win a match, I did have a lot of close matches. Neil Robertson only beat me 4-3 and I wasn't playing badly but I wasn't getting wins and that knocks your confidence.
"It was hard because on the women's tour I was winning everything so my confidence was way up there, but then I would play the men's and win nothing and my confidence was low, so it was really strange.
"But I feel like my game has improved all round and it's the confidence mainly. Now that I have done it, I believe I really can do it."
Evans is one of the lucky players on the women's circuit, she has a supportive management company and family which means she does not have to work and can fully focus on the sport, something she believes is essential.
For her rivals though, such as current world number one Maria Catalano, who is Ronnie O'Sullivan's cousin, things are not so easy as they juggle to fit training and tournaments around a full-time job as there is no sponsorship of the women's game.
When she won the 2012 world title, Evans pocketed £400, a far cry from the £250,000 O'Sullivan took home for his World Championship victory at the Crucible.
She is guaranteed at least £3,000 regardless of the result against Robertson, and she could be moving in to the realms of figures which she jokes "make her feel a bit sick".
"Obviously their standard is higher and they are in the bigger venues so they do deserve that money.
"Compared to football it's nothing but for me it's everything. We just need that bit of sponsorship back in the women's game and then we will get players from all round the world coming over or we will be going over there.
"As long as the money is there to cover the expenses and a bit extra, you would get a lot of interest because it is very popular and a lot of women play."
Money it appears is the only thing preventing more women moving into the men's game. A lack of investment and funding mean training has to take a back seat but when it comes to physicality Evans, who won 70 consecutive matches in ranking events, believes there is no reason a woman cannot compete alongside her male counterparts at the top of the game.
"It's not a strength game, it's just mental really so there really is no reason why women can't compete.
"There are some very good players out there. It's just that they haven't got the time or the money to do so. So hopefully I am just encouraging people to get behind women and back them so they can do it."