Ronnie O'Sullivan reconsiders retirement from snooker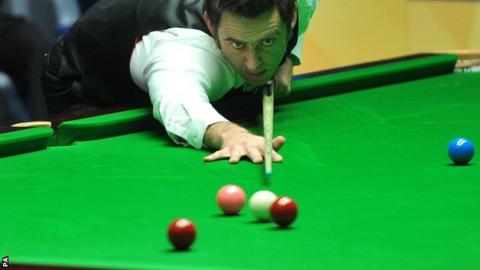 World Championship final - O'Sullivan v Hawkins
Venue:

Crucible Theatre, Sheffield

Date:

5-6 May

Coverage:

Sunday: 14:00-18:00 & 19:00-23:00 BST; Monday: 14:30-18:00 & 19:00-23:00. Live on BBC Two, BBC Two HD, Red Button and online on the BBC Sport website, mobile and BBC Sport app. Updates on BBC Radio 5 live.
Ronnie O'Sullivan appeared to perform a dramatic about-face ahead of his fifth World Championship final, declaring he could not afford to retire.
On Wednesday, O'Sullivan, 37, suggested he might walk away from the sport after this year's event.
But after his semi-final win over Judd Trump he said: "I don't know where all the money's gone but I'm not in a position to retire."
In the final O'Sullivan plays
However, the four-time world champion, who said he was having personal issues with his ex-girlfriend, added: "In an ideal world I'd love to go out there and play.
"But any of this money that's coming to me I have to pay out straight away to keep the wolf from the door. I've been backed into a corner.
"I've spent £250,000 on lawyers' fees over the last three years, plus the court orders and this, that and the other, so there's no point in me playing, I might as well be skint.
"I'm not good at dealing with pressure, so sometimes it's easier for me to say: 'You know what, I'm not playing that game, see you later.' Maybe I'm better off on a barge on a canal somewhere."
O'Sullivan won prize money totalling £449,430 during the 2010-11 and 2011-12 seasons, including £250,000 for clinching his fourth world crown at the Crucible 12 months ago - he will win another £250,000 if he successfully defends his title.
His career earnings are reported to be in excess of £6m, second only to seven-time world champion Stephen Hendry.
O'Sullivan, who has nine tournaments left on his World Snooker contract, said he would be happy to play in some of the more fringe events on the tour.
"I like playing in the PTC [Players' Tour Championship] events, the smaller events, because that is pure snooker," said O'Sullivan, who has never lost a final at the Crucible.
"But this is different - all my family are going to want to come up, there's masses of pressure. If circumstances were different I'd embrace it, but I'm backed into a corner.
"That's why I ended up working on a farm during my year off. Believe me, I didn't want to work on a farm, I just had enough of it all."
O'Sullivan said he had been close to breaking point at times during this year's event, despite having never trailed in any game, but added his new-found mental strength and experience had carried him through.
"It hasn't been plain-sailing for me," said O'Sullivan, who has barely played any competitive snooker since winning the world title last year.
"It doesn't seem like you're being pushed but believe me, there are times out there when you're so close to cracking. And something will happen which will give you a bit of belief and you'll pull away.
"I'm a much more difficult opponent to beat these days. Years ago I probably would have thrown in the towel in the second round. But I'm managing to get the best out of myself on any given day.
"It's been good enough to get to the final, and please God it will be good enough to get me through one more match."
O'Sullivan will be a strong favourite in the final when he takes on Hawkins, whose previous best at the Crucible had been two second-round appearances.
Asked what chance Hawkins, or his semi-final opponent Walden, had of beating O'Sullivan, seven-time world champion Stephen Hendry said: "None. I'm frightened it will be a procession."