Mark Davis: March of time no hurdle for Sussex snooker player
By Owen Phillips
BBC Sport at the Crucible
Last updated on .From the section Snooker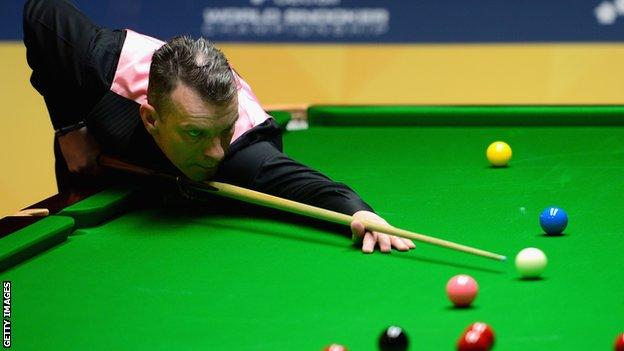 Approaching the age of 40 in snooker has become synonymous with a gentle but irreversible slide towards the sport's scrapheap.
It is supposed to be a young man's game - so say the pundits, and the stats and facts.
Mark Davis is bucking the trend.
This season Davis has made the top 16 for the first time in his career, and his convincing victory against four-time world champion John Higgins in the first round of the World Championship suggests there is more to come.
The amiable East Sussex man just hopes his eyesight doesn't fail him in his advancing years.
"I wish making the top 16 had happened a bit earlier," Davis said.
"But I will have it anytime and I feel good. I can still just about see - so hopefully I have a little while left yet.
"It's amazing. Not many people have done that so it's a strange one.
"This season has been my best season. I've made three semi-finals and it's disappointing I didn't push on and reach a final or win one.
"But seeing as I had never been to a semi-final before it's been a brilliant season and hopefully there is more to come here yet."
Gaining veteran status and still mixing it with snooker's snazzy, slick and stylish next generation might bring greater respect, but it rarely leads to success in ranking tournaments.
Holding your own against Father Time is one thing, getting better with age is another.
Davis, who turned professional in 1991, said his improvement is mainly down to getting his head right.
"I could always play but it's between the ears with me I am afraid," the St Leonards-based player admitted.
"That has improved in the last two or three years. I am thinking better, I can handle making mistakes better and don't beat myself up over it for the next three frames.
"That's the main difference. I could always play but maybe in the last couple of years I have actually believed I can play. The mental side is a massive part of the game.
"Sometimes the mental side has let me down in the tournaments and qualifiers.
"But I've been doing a bit of work with Terry [Griffiths, world champion in 1979] and having more tournaments now and playing all the time helps, without a doubt. It keeps everybody sharp."
Even the fact he had to come through qualifying, because Ronnie O'Sullivan's return edged him out of the top 16 seeds, was probably a blessing in disguise after a mixed 2013.
"It did do me good to beat Liang Wenbo because he is a great player and it gave me a bit of confidence," Davis explained.
"I haven't really got the results since the UK Championship even though I have not been playing that badly."
His confidence has certainly been restored after the win over Higgins, particularly as his form at the Crucible has been shaky over the years and his visit in 2012 was about as miserable as it could possibly have been.
Davis, who is looking to reach the third round for first time having made the second round in 1995 and 2010, was unwell and ended up getting thumped 10-2 by Ali Carter.
"I have never played particularly well here," Davis said.
"And I have shocking memories from last year where I was half-dead and, even though it was out of my control, it was an absolute nightmare."
Davis will play either ninth-seed Stuart Bingham or the lowest-ranked qualifier Sam Baird in the second round.