China's Ding Junhui makes 147 maximum break in Galway
Last updated on .From the section Snooker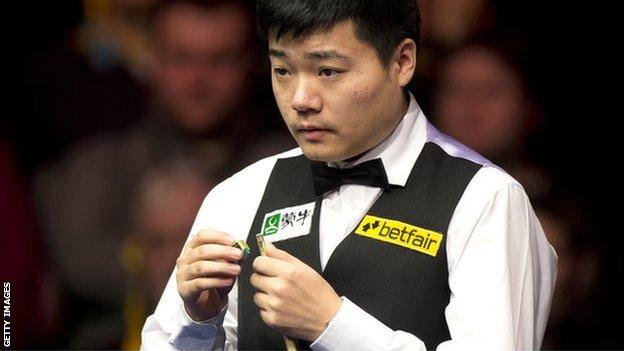 China's Ding Junhui made a maximum 147 break in the opening frame of his quarter-final against Mark Allen at the Players Tour Championship Grand Finals.
The world number nine, 25, has now completed five maximums in his career. Only Ronnie O'Sullivan, Stephen Hendry and John Higgins have made more.
Ding's effort on Saturday was the 97th maximum in snooker history, and he went on to win the match 4-3.
"It was crazy today," Ding told the World Snooker website.
"I made a maximum in the first frame and I only made one mistake with position, when I left the white close to a cushion and had to pot a red to a middle pocket.
"I thought it was a good chance for a 147 because the reds were all in a good position around the black."
Ding made his first 147 at the 2007 Masters, his second at the 2008 UK Championship in 2008, and two more in Players Tour Championship events in 2011.